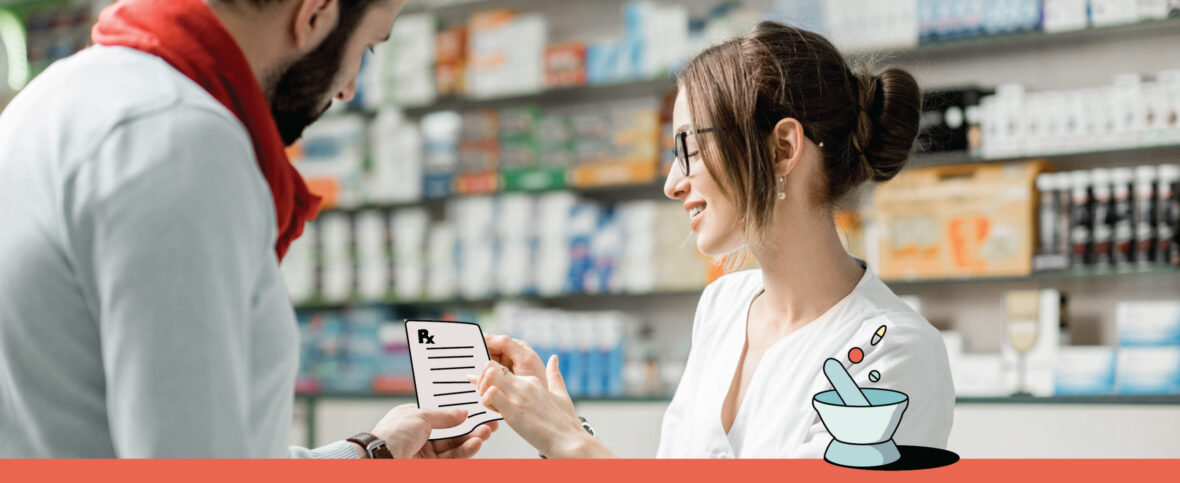 September 13, 2021 • read
PrEP: what is it and how does it reduce HIV risk and infection?
Medicine has come a long way since acquired immunodeficiency syndrome (AIDS) was first identified in the 1980s. But while AIDS is treatable, there's still no cure for it. The best way to protect yourself from AIDS and HIV, the virus that causes it, is through prevention. In combination with safe sex and drug use practices, PrEP can prevent you from getting HIV in the first place. Here's everything you need to know about PrEP and how it can reduce your risk of HIV infection.
What is PrEP and how does it reduce HIV infection?
PrEP, which stands for pre-exposure prophylaxis, is a daily pill that helps to prevent human immunodeficiency virus (HIV) — the virus that causes AIDS. The most popular PrEP medication in Canada is a combination of two anti-HIV drugs called tenofovir disoproxil fumarate (TDF), and emtricitabine (FTC). You can buy this medication under the brand name Truvada, or in its generic form — both are equally effective. Descovy is another equally effective PrEP drug, but it's more expensive than the others and isn't yet subsidized by most healthcare plans.
Regardless of its brand name, if taken correctly, PrEP is 99% effective at preventing HIV from sex, and at least 74% effective at preventing it from injection drug use. If you come into contact with HIV and have enough PrEP in your system, it blocks the virus from entering your healthy CD4 cells and making copies of itself. This prevents HIV from permanently infecting you. PrEP won't, however, protect you from other sexually transmitted infections like chlamydia, herpes, or gonorrhea. It also doesn't stop you from getting pregnant. Because of this, doctors recommend that you use PrEP with other sexual health practices such as wearing condoms.
Who can take PrEP? Can you use PrEP if you're HIV positive?
PrEP is for anyone who may be at higher risk of HIV exposure. This might be you if you frequently have unprotected sex with different partners, if your partner is HIV positive, or if you're a sex worker or an injection drug user. You may also be at increased risk if your partner engages in any of these behaviours. 
Because PrEP is a preventative course of medication, you should only take it if you're HIV-negative. If you know or suspect that you're HIV-positive, or think you've been exposed to HIV, get tested and speak to your doctor about other forms of treatment, or about post-exposure prophylaxis (PEP). Taking PrEP when you're HIV-positive can make you resistant to the medication, limiting your future treatment options. 
How do you take PrEP?
You need to have a certain amount of PrEP in your system to prevent HIV, so timing is a crucial part of taking the medication. This means it's usually prescribed as a daily pill, and the more regularly you take it, the better it'll protect you from getting HIV.
What are the side effects of PrEP?
PrEP is safe to take for most users. Some mild to moderate side effects may include:
Nausea

Diarrhea

Vomiting

Headache

Fatigue

Stomach ache

Insomnia 
In some cases, PrEP can cause kidney issues and may contribute to loss of bone density. To make sure you're tolerating the medication properly, you'll be screened every three months once you start PrEP.
How much does PrEP cost?
A month's worth of PrEP can cost anywhere from a few hundred to over a thousand dollars. In Ontario, however, PrEP is covered through certain provincial or private insurance plans for most people.
What's the process for getting PrEP?
Before you can start taking PrEP, you'll need to get an HIV test to make sure you're HIV-negative. For those in Ontario, a doctor on Maple can help expedite the process with an OHIP-covered appointment by sending a requisition for an HIV test to the lab of your choice, at a time that works for you. Once your results confirm your status, the doctor can write you a prescription for PrEP. Once you've been on PrEP for a month, you'll need follow-up testing to ensure your body's tolerating the medication properly and that you remain HIV-negative. After the first month, you'll switch to follow-ups every three months.
If you're concerned about contracting HIV, speak to one of our doctors about how PrEP can protect you today.