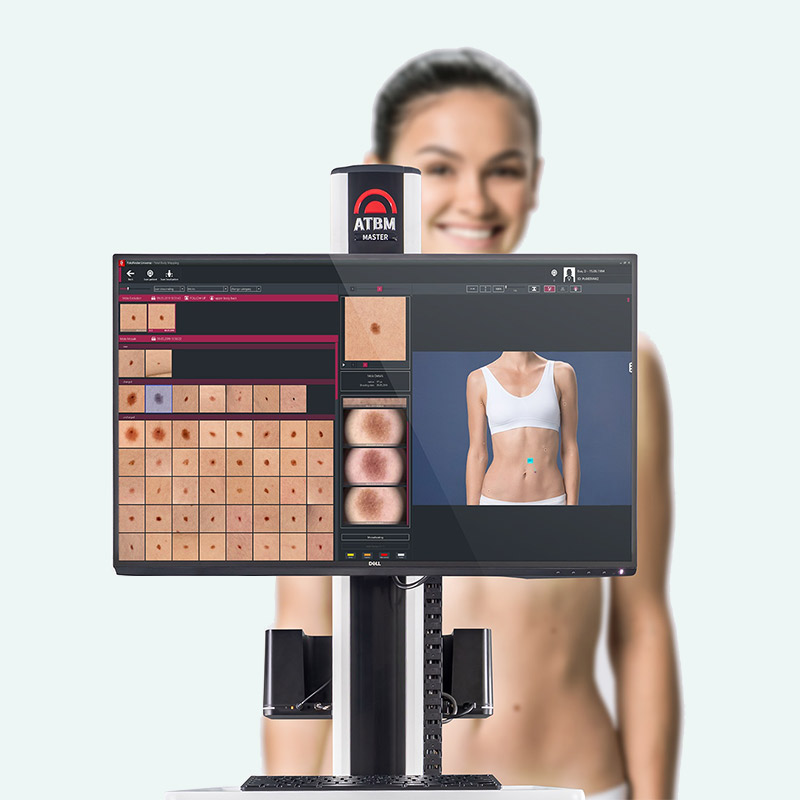 Get a clear picture of your skin.
Get an enhanced mole mapping using the FotoFinder Automated Total Body Mapping (ATBM) Master. Mole scanning can help identify skin cancers such as melanoma early and facilitate prevention, reducing the need for biopsies. Following your scan, an expert dermascopist will provide you with an assessment, medical advice, and a complete report.
We offer this service in Toronto, Ontario. Please note that this service requires an in-person clinic visit.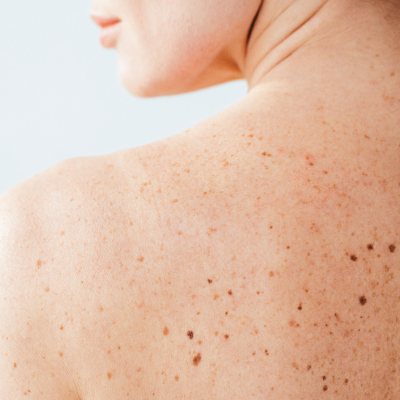 Mole mapping saves lives.
Melanoma is the deadliest type of skin cancer. Though it's most commonly found on your back or legs, it can appear on any skin surface. With early detection, melanoma has a cure rate of over 95%.
The FotoFinder ATBM Master is a full-body scanner that takes high-resolution pictures of your whole body. It allows a professional to inspect your moles and lesions by looking closely at enhanced images. Any skin abnormalities found will be referred to an expert.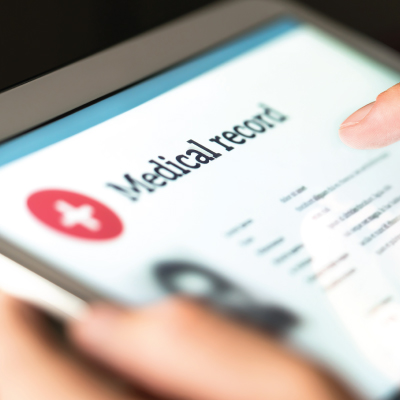 Get a complete assessment from a dermatologist.
Following your scan, an expert dermascopist will provide you with an assessment and medical advice based on your results, plus a complete report. These useful findings can help identify potential health risks for your skin.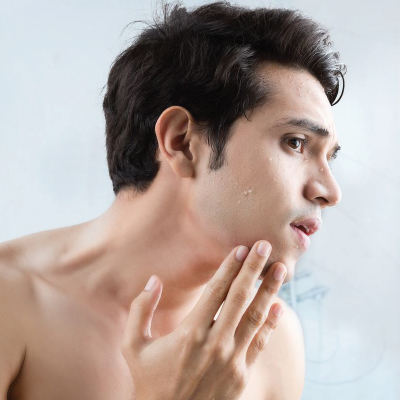 One in six Canadians will develop skin cancer in their lifetime.
Skin cancer is both one of the most common types of cancer and one of the most preventable. Melanoma can appear suddenly, or begin in an existing mole in the skin. Combining revolutionary skin cancer screening technology with a complete assessment from an expert dermascopist can help detect abnormalities early or diagnose skin cancer.
Wondering about a suspicious mole?Get the answers you need.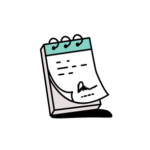 EASY BOOKING
Book an appointment
No referral is needed. Just log into your Maple account and book an appointment from the list of available specialties.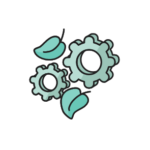 SESSION BEGINS
Full-body scan
You'll be asked to change into a paper gown. Then, you'll stand in front of the FotoFinder scanning machine. You'll be approximately eight feet away from the operating technician. During the scan, the FotoFinder ATBM Master takes high-resolution pictures of all uncovered areas of your body.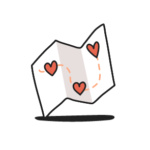 FEEDBACK
Skin assessment
Photographs are reviewed by a certified dermatologist. You'll receive a report on your Maple account with the results of your scan.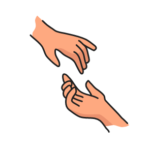 YOUR REPORT
Plan any necessary follow-up
If any lesions are flagged as abnormal, you'll be notified and receive advice for further treatment.
Discover the technology behind mole mapping.
The FotoFinder ATBM Master makes total body dermoscopy possible for the first time. State-of-the-art imaging combined with dermascopist expertise can help you detect new and changed skin lesions as early as possible.
Frequently Asked Questions
Is the screening performed by doctors?
The scans are carried out by experienced technicians who are highly trained in operating the ATBM Master.
What is the FotoFinder ATBM Master?
The FotoFinder ATBM Master is a full-body scanner that takes high-resolution, polarized pictures of your whole body. Technicians can zoom into these pictures to see every detail of a skin lesion.
The FotoFinder also creates a database of your moles so changes to your skin between visits can be flagged. The system compares new moles and lesions to photographs from your previous scans.
Who should receive skin cancer screening?
Anyone can benefit from annual skin cancer screening, particularly those with risk factors.
Certain individuals are at higher risk of developing skin cancers such as melanoma, so early detection of melanoma is key. Risk factors for skin cancer include:
Age between 35-75
Light skin
Blonde or red hair
Having more than 50 moles
Having large moles, greater than two inches in diameter
Noticing new moles, or that your moles are changing in size or shape
Family or personal history of skin cancer
Having severe sun damage in the past
History of tanning bed use
If you are worried about a mole, use the ABCDE method to determine if it needs to be examined by a doctor.
A — asymmetry
B — irregular or uneven borders
C — dark in colour
D — large in diameter, over a quarter inch
E — evolving over time
If your mole displays any of the above characteristics, it's a good idea to see a dermatologist or have mole scan completed.
Are there exceptions for the FotoFinder?
Yes. Mole mapping also referred to as dermal scanning or mole scanning, is not recommended for patients under eighteen years old as they are still growing and imaging may be unreliable.
The FotoFinder can only take pictures of non-covered areas of the body. For example, body parts underneath your undergarments would not be photographed. These areas can be photographed with hand-held camera attachments if you wish for moles or lesions in these areas to be scanned.
Patients with physical disabilities may be scanned using a portable, handheld camera.
Will the scan be performed by an onsite dermascopist?
Scans are performed by experienced technicians. A report with an expert dermascopist's findings will be uploaded to your Maple account afterwards.
What if I need to cancel my mole mapping appointment?
You can cancel your appointment through the Maple platform. If you need to cancel, please do so at least 24 hours before your appointment time. Cancellations within 24 hours of your appointment will be charged 25% of the full appointment fee.
Get peace of mind about your skin.
Take care of your skin's future with mole scanning and early detection of skin cancers such as melanoma.