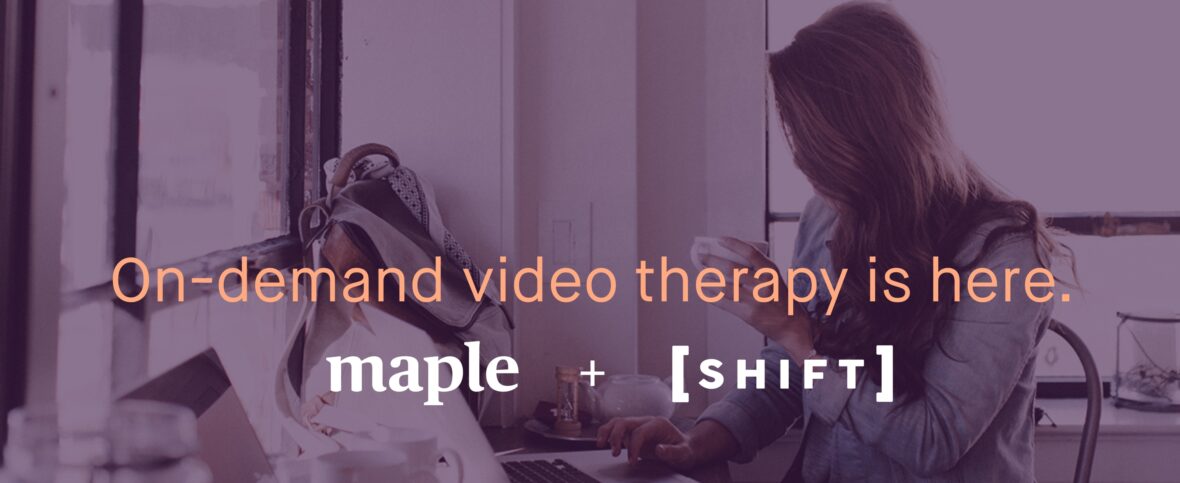 Announcing on-demand therapy
We're excited to announce our partnership with Shift Collab to deliver mental healthcare to Canadians — now you can get counselling and therapy online from the comfort of home, any time on your schedule.
We're pleased to launch an innovative partnership with Shift Collab to enable Canadians to access on-demand therapy sessions, in an effort to dramatically improve access to mental healthcare.
Beginning in Ontario, this service will allow anyone to access 50-minute therapy sessions from anywhere in the province through Maple. In these sessions, patients will be able to address the specific challenges that they are experiencing in that moment — whether it be to reduce anxiety before a big date, manage the aftermath of a difficult conversation with a partner, or strategies to de-stress after a challenging day of work.
The on-demand appointment style was designed to give greater flexibility and immediacy, and lower barriers to accessing mental health support.
Through the program, therapists will be available in under 12 hours on Maple's easy-to-use, secure video platform. As the program grows, the service will be made available outside of Ontario to help even more Canadians.
Maple allows patients to connect with doctors online about conditions that don't require an in-person visit directly from their smartphone, tablet, or computer. Doctors can diagnose, provide advice & counselling, and prescribe medications for many common medical conditions right through Maple. With more than 350,000 patients and over 300 licensed Canadian doctors on the platform, Maple promises patients a live chat or video visit within minutes, day or night — the shortest wait time for a doctor in Canada's virtual care industry.
Shift Collab is a leading therapy provider and mental health education firm, focused on making mental wellness simple, relatable, and actionable. Their team of over 30 therapists and a national network of counsellors have served thousands of clients over the past two years, providing tactical support to help clients navigate everyday mental health challenges.
Challenging the status quo of the healthcare industry is an essential tenet of both groups' missions.
Dr. Brett Belchetz, the Co-Founder and CEO of Maple, explains the core reason for creating Maple from the outset: "Based on my experience as an emergency room physician, at least half of the cases I see do not require a hands-on physical examination, and there is a tremendous demand for more comfortable and efficient access to care in Canada, so people can feel better, faster," says Dr. Belchetz.
Megan Rafuse, the Clinical Director of Shift Collab, agrees. "We often expect that therapy clients have the availability to put aside their commitments to visit a therapist's office, when in reality, a meaningful therapy experience can now be delivered through video at the touch of a button. This kind of care is the future."
Current users of Maple will now see an option for a therapy session in their portal when logged in to the browser version of the app. For new users, getting access to a therapist is as simple as going to www.getmaple.ca, creating an account, selecting therapy, and being connected to a therapist.
For more information or to try online therapy, please visit us at www.getmaple.ca or www.shiftcollab.com.