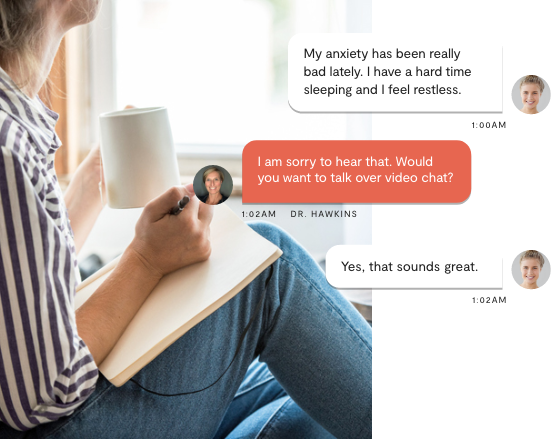 whenever you need support.
Nurturing your mind is just as important as nurturing your body. When you're navigating life changes, when you're feeling overwhelmed, when you want to feel seen and heard, we're there for you. 
Talk to someone when you need it, no appointment necessary.
Here's how Canadians coast-to-coast are using Maple for support.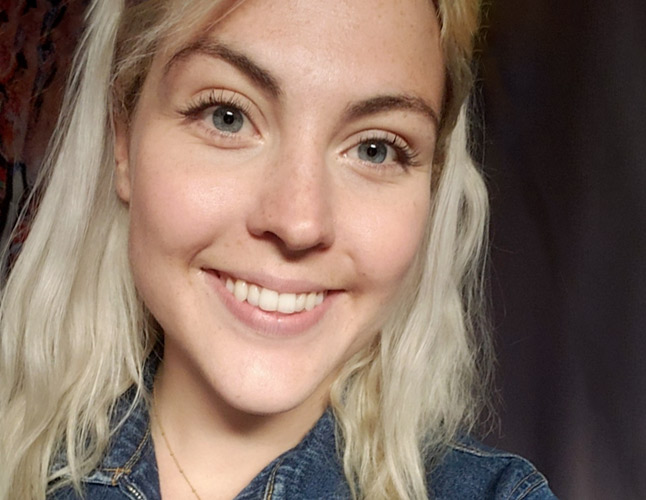 "Maple is incredibly innovative! I have a crippling fear of going into clinics or interacting with doctors in person. Maple made it extremely easy for me to speak with a healthcare provider from the comfort of my own home."
Meet some of our licensed therapists.
Therapy is all about finding the right therapist for your needs and personality. Click the button below to get to know our providers.
Stacey Van Wart
Stacey provides psychotherapy to individuals struggling with relationships, anxiety, depression and stress. Stacey provides support with compassion and emotional safety and helps identify different strategies to cope with diff ...
Sandra Godoy
Sandra believes that we all need support as we navigate life and the process of healing. She believes in seeing people for who they are, not the problems they choose to discuss. Her approach to counselling is holistic and stre ...
Kevin Christo
Kevin provides psychotherapy to individuals struggling with depression, anxiety, stress, low self-esteem, addiction and with difficulties in managing mood and emotions. Kevin takes a compassionate approach to the care of his c ...
Carmella Birori
Carmella specializes in relationships, life transitions, parenting and anxiety. Carmella brings a kind and compassionate approach to her relationship with clients and believes that her clients are experts in their own lives.Read More
Angela Allen
Angela is here to support you with anxiety, depression, relationships challenges and mood disorders while providing a safe space to discuss challenges and build strategies to overcome them.
Rachel Braund
Rachel specializes in working with individuals struggling with burnout, perfectionism, trauma, grief and loss, self-worth, anxiety and depression. She welcomes her clients into a safe space and supports them in navigating diff ...
Therapy any time, anywhere.
Our licensed therapists can help you with a range of issues, from overcoming depression to relationship challenges to feeling burnt out to work stress. If you need help navigating life's challenges, we're there for you.
Patients love using Maple
We have thousands of positive ratings from people just like you.
The service has been amazing for our family. The doctors are kind, thorough, and ask all the right questions. As a busy family of five, this app has been a life saver
Super impressed with this service. Without a family doctor, it's easy to feel alone with no care. Very thankful to have options.
So fast and efficient. A process that would have ordinarily involved a referral and a six months wait was completed in less than 72 hours. Wholeheartedly recommend Maple.
At 1:30 am, I realized I had a UTI and was desperate for help. I went online and within ten minutes, I had my prescription faxed to my pharmacy. This service gave me peace of mind.
Maple was there for me when other doctors couldn't be. So convenient. Any time, any day. I am grateful for this service.
We needed to see a doctor over the weekend as our pediatrician was not available. Logging into Maple and choosing from a selection of specialties was quick and easy. Excellent service!
Very easy to navigate Maple. It's secure and trusted. Maple has truly gone above and beyond with their app. Highly recommended.
Amazing service! It was great being able to connect with a doctor from the comfort of home late at night.
If it wasn't for this service, I would be clogging up the emergency rooms for a prescription refill. A much needed service in my area.
With my asthma flare-up, I needed a specialist and found one here. The doctor improved my treatment and explained everything in a very clear way.
Need a doctor? We're there for you.
Connect with a doctor in minutes for health advice, diagnosis, a treatment, or a new prescription.