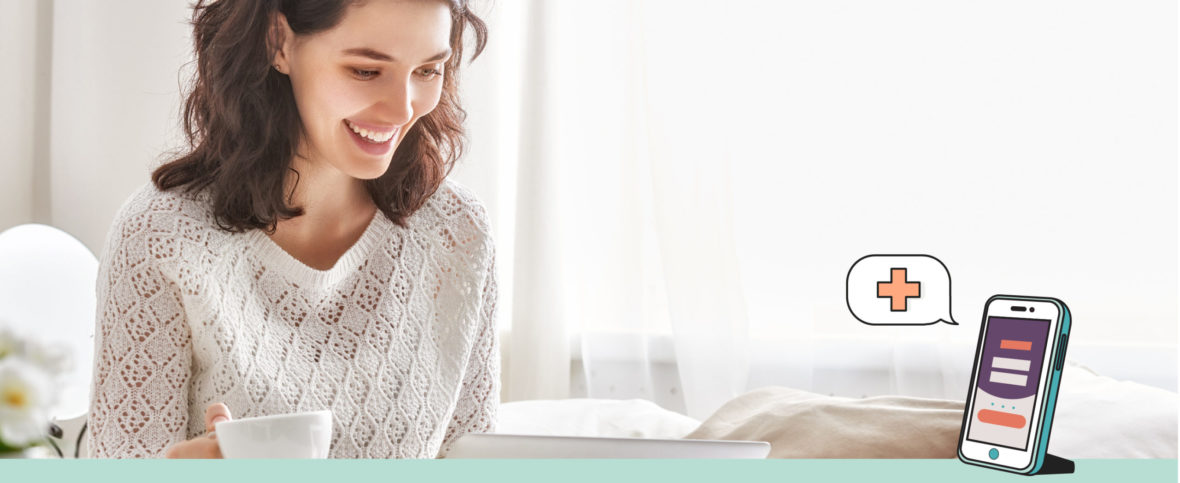 How online therapy works: the benefits of online counselling
The COVID-19 pandemic has forced many areas of life to move online, from grocery shopping to day-to-day work. Even in this environment, many people still hesitate to speak with an online therapist, as they worry therapy through a screen won't be as effective as in person. But why do many people prefer online counselling therapy over face-to-face treatments? And what advantages do online sessions have over in-person meetings?
Here's how to tell whether or not online therapy is a good fit for you, and how you can get the most out of online therapy.
Is online therapy a good idea?
Though online therapy may seem like a recent innovation, video-based therapy has been around for decades, and its effectiveness has been demonstrated time and time again. For example, recent studies have shown that online sessions can be just as effective as traditional face-to-face meetings.
In one study, researchers found that when combined with clinical care, online cognitive-behavioural therapy (CBT), a type of therapy, can effectively treat depression, anxiety, and emotional distress. A review of 17 studies also demonstrated that online CBT was even more effective than in-person CBT at reducing the severity of depression symptoms.
Online therapy can be a great option for many people, especially if:
It's difficult for you to find the time to go to a therapist's office in person
You live in a small town or remote, where there aren't a lot of therapists available and the closest one to you still lives far away
You need more flexible hours than most therapy offices can provide
You feel more comfortable using an app than talking to a stranger in person
Simply put, there's strong evidence that online therapy can be just as effective as in-person sessions. In other words, online mental health therapy is here to stay and will most likely only gain in popularity in the next decade or so.
How talk therapy can help, whether online or off
In many ways, online therapy is no different than in-person sessions. Consulting a licensed therapist can help you observe and analyze your thoughts, feelings, and behaviours in a neutral environment.
Your therapist will listen, provide an objective analysis of your experiences, and help you make connections or identify recurring patterns you may have failed to notice. In this way, therapy can empower you to rewrite the story you're telling yourself about your life, which can help you take action outside of your therapy sessions.
Along with self-discovery, a licensed therapist can help you set personal goals, celebrate achievements, and stay accountable. By shedding light on complex problems or obstacles, therapy can help you make adjustments so you can better meet your self-care needs. A licensed counsellor will work with you to develop various coping strategies you can use to improve your well-being.
Your relationship with your therapist differs from your relationship with a friend or an acquaintance. Unlike with a friend, you don't have to give back or worry about how unloading your feelings on them might make them feel. That's what they're here for! Let your therapist be a safety net that can catch you when you stumble.
What are the advantages of online therapy?
There are many advantages to seeing a mental health counsellor from home through an online platform, which is why many people choose online counselling therapy over in-person treatments. Some advantages include:
Convenience: You can see a therapist from the comfort of home, without having to travel to an office. Just make sure you have access to a nice, quiet room that offers you privacy and you're good to go!
Accessibility: Mobility is often an underrated issue when it comes to accessing care for mental health. Online sessions make therapy far more accessible for people who are disabled or housebound.
Privacy: Online therapy can offer you more privacy than in-person sessions. For example, if video makes you uncomfortable, you can chat live with an online therapist over text message or a phone call. Seeing a licensed therapist online also means you'll never have to worry about accidentally running into someone you know at your therapist's office.
Wide range of providers: You're not limited to seeing therapists who live in the same city as you, which means you can choose from a wide range of licensed therapists with different areas of expertise including trauma, grief, loss, cross-cultural issues, addiction, or work life.
Finding the right therapist
Qualifications and experience are important, but it's often the relationship you develop with the therapist that influences how much progress you make over time. Your online therapist should be your partner in growth, so look for someone who makes you feel understood and supported. Talking with someone you feel you can trust can help you open up about difficult topics and share intimate details honestly, without holding back.
Preparing for your first session
Let's say you've decided you want to explore online therapy and that you've scheduled your first appointment with an online counsellor. What's next?
First, whether you're using a phone, tablet, or computer, make sure your equipment is in good working order. Find a quiet room that offers you privacy. If getting privacy at home is difficult, sitting in a parked vehicle can be an excellent alternative.
Your first session with a therapist often provides a good opportunity to ask questions about their practice. Here are a few questions you'll want to ask:
What experience do you have helping people with my condition?
What does a typical session with you look like?
What type of therapy do you offer?
How does your approach differ from other therapists?
How many sessions do you usually have with a client?
How many on average do people need to see change and progress?
Conversations can go in different directions, so try making a list ahead of time of topics you'd like to discuss in case you forget them during your session. Having a pen and some paper with you can also be helpful during your sessions, as it can make it easier to take notes.
Difficult emotions can come up during therapy, so having something to anchor you can be helpful, like a photo of a loved one or a keepsake. Even a warm cup of tea or coffee can help. Just make yourself cozy.
Next steps
After your first three to four weeks of therapy, it can be a good idea to take a step back and ask yourself a few questions to know if you're heading in the right direction.
Try asking yourself:
Are my symptoms improving? Are they less frequent? Do I feel better about myself?
Have I established coping techniques to deal with stress and negativity?
Am I able to focus better on the things that matter most to me?
Have I identified bad habits that I want to change for the better?
Does my therapist really "get" me?
Are my sessions productive?
Have I gained new skills or perspectives?
If you answer "no" for many of these questions or if your sessions don't feel quite right, be open to making a change and working with a new therapist. Trust your instincts.
How to schedule an online therapy session through Maple
Through Maple, you can schedule an online appointment with a Canadian-licensed therapist or choose to speak with a professional as soon as possible, in 12 hours or less. You can consult a provider by text, audio, or video chat, and the service is available in all Canadian provinces. Each session is 50 minutes in length and many benefit programs cover the fee of an online therapy consultation on Maple.
To get started, simply open the Maple platform and click the "Get care" button and select "Psychotherapy". Choose the Canadian certified counsellor you'd like to speak with and a time and date that works for you. That's it! All you have to do then is get ready for your session. In the meantime, try journaling, which can help you identify topics or issues you'd like to discuss with your therapist.
Want to know more about our licensed therapists? You can meet a few of the mental health counsellors you can work with on Maple here.