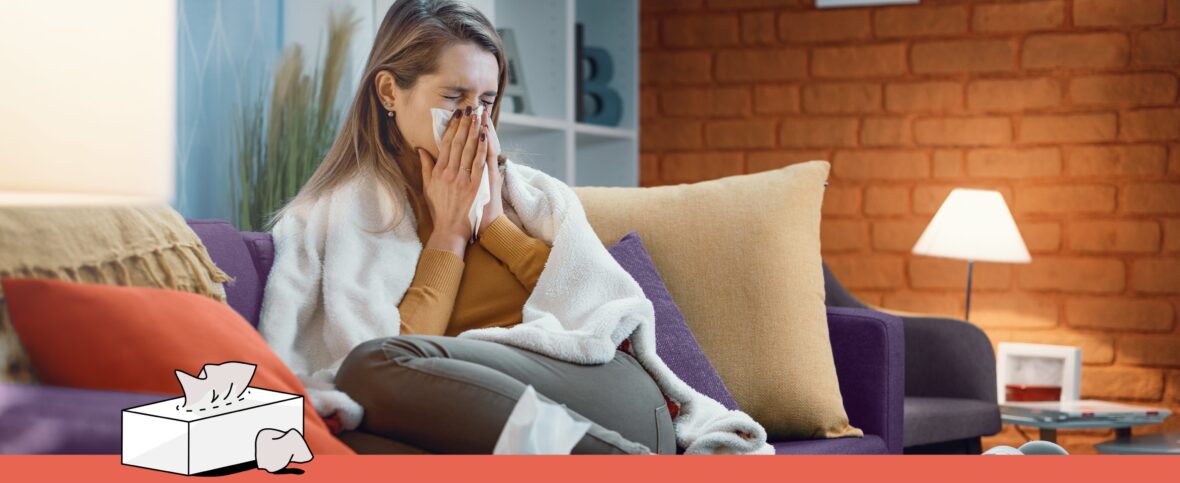 How to get the flu shot during COVID-19
Usually, the seasonal flu is the most of our health worries come fall and wintertime. This year is different. It's more important than ever that Canadians get their flu shot. But where should you go for a flu shot if you're working from home?
The flu shot is a vaccine that's redeveloped every year to protect against different variations of influenza, which are called strains. Scientists predict which strains will be the most common during the upcoming flu season, and include them in the vaccine that's administered to the public. Don't worry — the flu shot only contains dead or weak samples of each strain. 
Many employers set up temporary flu shot clinics at their offices. That is, of course, when offices are open. With many people still working from home, they'll have to find other ways to get the flu shot this year. 
Why is getting a flu shot important?
The flu is serious business. It can put you on the sidelines for weeks recovering, and lead to severe medical complications. In Canada, the seasonal flu is responsible for approximately 12,200 hospitalizations and 3,500 deaths each year.
Even if you sail through recovery just fine, getting the flu shot is still important for protecting people who are at higher risk for complications. This group includes senior citizens, those with underlying health conditions, young children, and pregnant women. When you get the flu shot, you're at lower risk of spreading the flu. 
This isn't an ordinary year for the flu due to COVID-19. Experts say that it's doubly important to get the flu shot this year. By getting the flu shot, you'll be able to discern whether illness symptoms that pop up are related to the seasonal flu or COVID-19. If you've already had the flu shot, any onset of fever and dry cough are more likely to signal COVID-19.
Then there's the strain on our healthcare system, which we should always keep in mind. If there's another spike in COVID-19 cases, we'll need to ensure there are enough empty hospital beds to accommodate new patients. If we're also dealing with a heavy flu season at that time, we run the risk of overrunning our hospitals.   
What's even more worrying, there have been cases of patients getting the seasonal flu and COVID-19 at the same time. The common theme with COVID-19 is uncertainty. We don't know what to expect when people get both diseases. It's better not to experiment with your health, so get your flu shot. 
Where can you get the flu shot during COVID-19?
In normal years, approximately 35% of flu shots are given at local pharmacies. That figure is expected to rise this year as doctor's clinics may not be able to accommodate so many patients. Shoppers Drug Mart has a mailing list to notify you when the flu shot is ready. You'll even get 500 Optimum points for signing up.
Your family doctor or local walk-in clinic can give you the flu shot once it's been distributed to your province. This year, with physical distancing, clinics will probably schedule flu shot appointments to avoid having too many people sitting in their waiting rooms. That might mean that clinics won't be able to give the flu shot to as many patients as usual. 
Many Canadian towns and cities have public clinics for matters like sexual health, harm reduction, and primary health for lower-income people. You can get the flu shot at many of these clinics, but it's a good idea to call ahead first to confirm they're offering the vaccine. 
If your employer has reopened their office space, they may set up a mobile flu shot clinic this year. 
When should you get the flu shot?
The Public Health Agency of Canada has stated the flu shot should be ready at its normal time this year, late September to early October. You should get the flu shot as early as possible once it's available. 
It takes about two weeks for your body to create antibodies to fight the flu once you've received the vaccine. Flu season is well underway by November, so you'll want your antibodies going at full strength by then. The flu season peaks in January or February. 
Is it safe to get the flu shot during COVID-19?
In a word, yes. The flu shot does not put you at higher risk of contracting either COVID-19, or the seasonal flu.
Vaccines are specific in their effects. If this weren't the case, we would have one vaccine for all respiratory diseases. 
And what if the vaccine for COVID-19 is miraculously developed, tested, and ready for the public this flu season? You can still get both vaccines. 
Safety precautions for getting the flu shot during COVID-19
Expect that medical staff will be wearing plenty of personal protective equipment when you go get your flu shot. You should do the same and wear a face mask, use hand sanitizer regularly, and maintain physical distance from staff and other patients. 
You'll also be screened for symptoms of COVID-19 before getting your flu shot. If you have a fever, or may have been exposed to the COVID-19 virus, you may be asked to come back after self-quarantining. 
Babies under six months old are too young for the flu shot. Kids over six months are great candidates though. That's because kids are "super-spreaders" of the flu. By inoculating kids, that's a big step towards preventing the flu from spreading through communities. 
Have questions about getting the flu shot?
Want some good news for a change? Flu numbers are at record lows this year. That's because our collective measures to stop the spread of COVID-19 have also helped prevent the flu from spreading. Washing our hands, wearing face masks, and physical distancing are useful for slowing the spread of most diseases. 
Don't take that as a green light to skip your flu shot. It's an easy and effective way to help keep Canada healthy as we enter into the chilly fall and winter seasons. How we cope with the fall and winter seasons will set us up for ultimate recovery from COVID-19. Let's keep going strong. 
Learn more about adding virtual care to your employee benefits plan
Get in touch