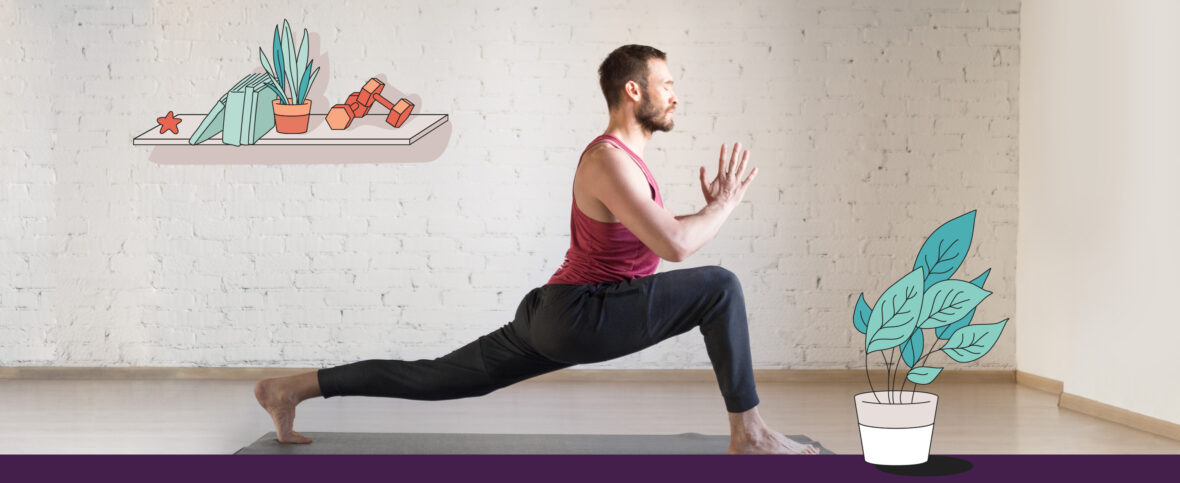 Taking care of your physical and mental health through COVID-19
One of the best ways to stay balanced during COVID-19 is to take care of your physical and mental health. But how can you do that if you're practicing physical distancing? Here are a few tips to help you adapt. 
Look for gyms offering virtual classes
Canadian gyms aren't letting COVID-19 interfere with their grind. If you're already a member of a gym, check to see if they're running online classes. For instance, the National Ballet of Canada is running dance and fitness classes over Instagram. If you want greater regularity and variety in your classes, see what gyms are offering full online class packages. Yyoga is a Canadian yoga franchise with locations in Toronto and British Columbia. They're offering online yoga classes.
Some gyms have re-opened, but there are lots of safety precautions to keep in mind while you're working out. Wear a mask between exercise rounds, sanitize your equipment, and ramp up your hand washing. And, be sure to stay home if you feel even a little bit sick.
Don't check the news too much
To avoid going stir-crazy, try not to check the news or social media too often. You can take on information overload by trying to keep up with every single update on COVID-19. The reality is, the situation is unlikely to change much within a day, so limit your news consumption to once a day. Instead, read a book, watch a TV show, or work on a project that makes you happy. 
Accept that some anxiety and fear is normal
COVID-19 isn't something we've seen before, and things like self-isolation and physical distancing are very new experiences for virtually all Canadians. Don't judge yourself for feeling some worry or anxiety. This anxiety is actually important for inspiring you to take proper measures to protect yourself and others. Physical distancing, frequent hand washing, and staying isolated if you're sick are all essential for flattening the curve of new infections. 
Get 7-9 hours of sleep
Getting enough sleep is essential for remaining in a good mood, and for having the energy to get all your tasks done from home. Keep a regular sleep schedule so you wake up and fall asleep at the same times every day. This will help add structure to your day, and keep your emotions stable.
Find relaxation rituals
Take advantage of your time at home to engage in activities you truly love doing. Partaking in a hobby that brings you joy will help you manage your stress levels. 
Try out activities that are well-known for being effective stress relievers, such as yoga, meditation, reading, or listening to music. These outlets can mentally transport you to another time and place, letting you take a small vacation from anxieties around COVID-19. 
Keep a healthy diet
During stressful times, many people turn to "comfort foods". As it turns out, these foods aren't so comforting to your mental health. Instead, choose whole foods that are full of vitamins and nutrients. A diet rich in these foods is proven to bring about feelings of well-being. Keeping up a healthy diet can also help you get a good night's sleep, which is imperative for keeping your mood, energy levels, and mental health stable. Plus, healthy foods boost your immune system, your body's internal defense system. 
Choose credible information sources
Every news station is reporting extensively on COVID-19, but some sources are more trustworthy than others. Some of the most credible sources include:
Talk to a therapist
If you're still struggling to cope with worry and anxiety, remember that there's an entire network of friends, family, and mental health professionals ready to help. Speaking to a therapist can help you process difficult emotions. If you'd rather avoid in person therapy, online therapy is available from the comfort of your own home and has been shown to be as effective as in-person therapy. 
If you're questioning whether online therapy is right for you, our friends at Shift Collab have a ton of resources to get you familiar with the process. We suggest starting with this candid exploration of online therapy, as told by a real therapist.  
Taking care of your mental health will help greatly in getting through this difficult time. It's hard to tune out the noise when COVID-19 is the main topic of conversation, but don't be afraid to take a mental break from it all. You'll feel much better for it. 
See the doctor online
Now is not the best time to go to your family doctor's office or to the ER of a hospital. You run the risk of being infected with COVID-19, or passing the infection to someone else. Instead, it's safer to stay at home and see a doctor virtually. It's quick to sign up for a Maple account, and you can stay in your PJs while seeing your doctor. 
No one enjoys having to stay home, but it's the best thing we as Canadians can do to flatten the curve of new COVID-19 infections. In the meantime, you can make the most of the current situation by adapting your lifestyle with these handy tips. Keep a structured routine, care for your health, and take advantage of online resources to get you through this difficult time. We're all in this together!