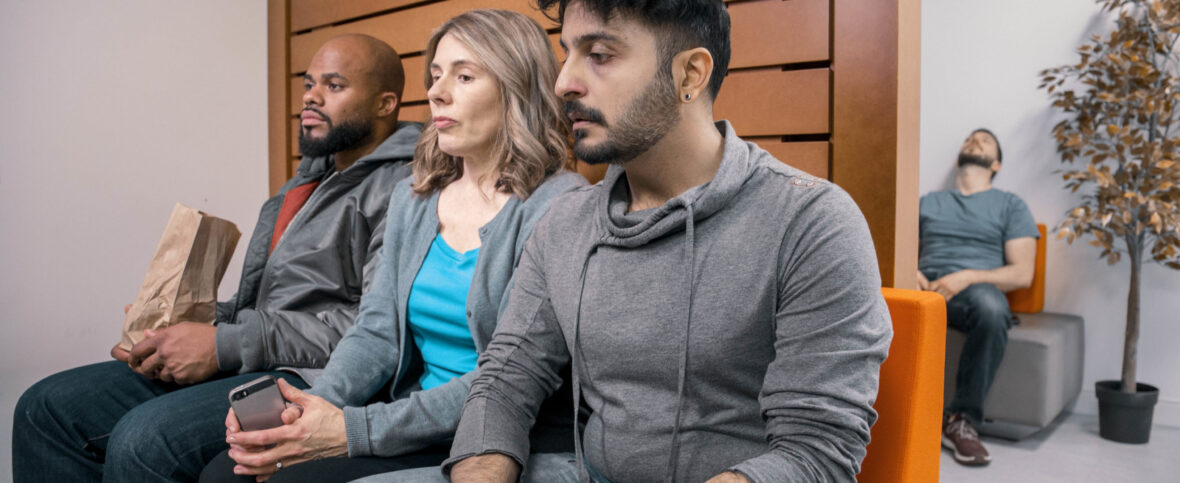 The story of Martha, and the two very different options she had
If you had to see the doctor, what would you choose?
Martha wasn't feeling well on Tuesday night, so she took some over-the-counter flu medicine and went to bed early. But when she woke up for work the next day, she felt terrible and she knew she needed a prescription. That meant going to the doctor…which was always a half-day ordeal to get 10 minutes with her doctor. Here's what her morning looked like – and what it could have looked like with Maple.
Option 1
6:30am: Martha got up early, because she hoped to be in the waiting room when there wasn't a huge line so she could maybe have time to do anything else besides go back to sleep when she eventually left. Alas, she arrived to a crowd.
7:30 am: Martha squeezed between two of the less contagious-looking people in the room, and they vacillated between trying not to sneeze on her and trying not to sneeze on the people next to them on the other side. It doesn't seem to end well for anybody, but nobody could think of anything else to do.
10:30 am: Martha checked on how long she might have to wait, and a harried-looking man at the desk told her he didn't know because it was a busy day. It was always a busy day. Martha eyed her spot, watching as someone else settled in between the sneezing gentlemen. She sighed and wondered whether it would be worth it to try to get some coffee or if she'd miss her time. She risked it. She missed it.
Option 2
6:30am: Martha woke up, looked at the clock, and rolled over to get some more sleep.
7:30 am: Martha woke up again, deciding this time to give getting out of bed a try. She wandered into the kitchen and made herself a cup of coffee.
8:30 am: Martha settled herself on the couch and pulled out her phone, opened up Maple, and requested an appointment. She sipped her tea and wrapped the blanket a little tighter against herself while she waited, but only for a few minutes.
---
Maple: Our mission is to help people feel better faster, while empowering patients with more healthcare choice and control.
---