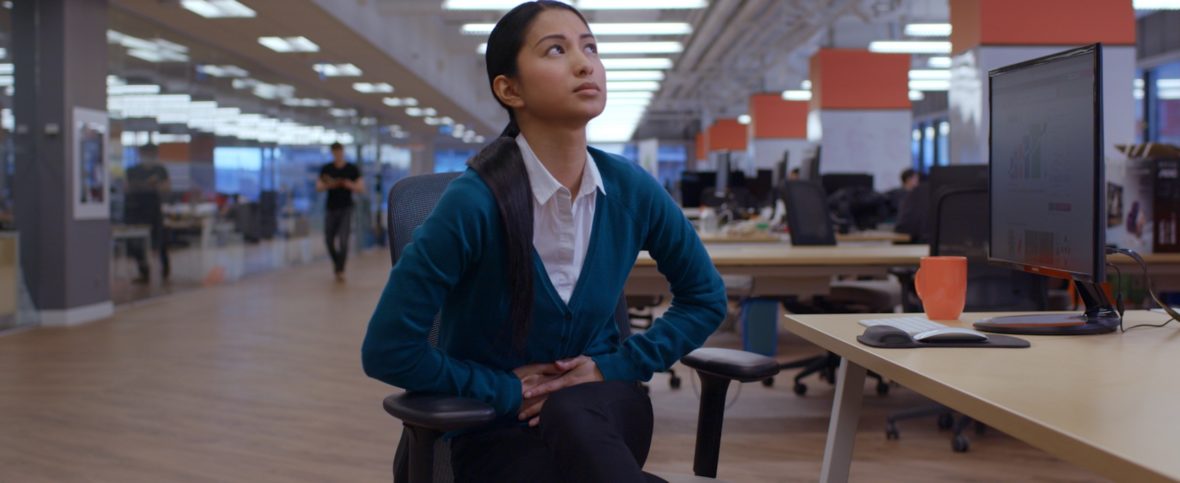 The story of Kelly, and the UTI she had no time for
Kelly is sitting at work, preparing for her big presentation tomorrow, but she's really thinking about when her Urinary Tract Infection (UTI) symptoms will strike again.
While trying to get through her work day, she can't focus because of the excruciating pain and pressure she is feeling in her lower abdomen, along with the constant urge to pee. Not only that, but when she actually does need to pee, it feels more like blades than liquid. It sucks, and Kelly has no time to deal with the normal UTI treatment processes that she usually goes through. She needs to work on her urgent presentation for the rest of the day, and can't dedicate a whole day to go to the clinic.
Kelly is worried, uncomfortable, and in desperate need of relief. Her only wish at the moment is to get back to work so she can prepare to 'wow' her audience with her presentation in the morning.  She calls her close friend Susan asking if there is any way to shortcut the lines at the clinic. But when Susan runs out of options, she asks Kelly a question: Have you tried an online doctor? Like a doctor you can talk to on your phone without going to the clinic?  
With hopes of getting fast relief, Kelly quickly hops online, inputs her symptoms, and the hours she could have been waiting in a clinic are down to just a few minutes before she's talking to a doctor. Kelly is able to receive medical diagnosis and treatment, all from the comfort of her office. The doctor makes sure that what she's experiencing is a typical UTI by asking about the frequency she experiences them, as well as any other symptoms that might be indicators of a more serious issue. But no, Kelly just needs fast help with her irritating run-of-the-mill UTI so she can get back to preparing her presentation.
The doctor tells her not to worry, she can order a prescription for some antibiotics right away for pickup from her local pharmacy, or delivery to her home. Since it seems like a simple UTI, there are a lot of options for oral antibiotics that can help fast. Bactrim, Sepra, Augmentin, Macrobid, and others are all options depending on a patient's past health and allergies. Once she's off the call, Kelly is relieved that she is able to get the relief she needs in less time than it would have taken her just to drive to the clinic. She gets back to work knowing that she's going to have fast relief and be ready for her presentation in the morning!
Get help fast when you need it, so you don't miss life's most important moments.
---
Maple: Our mission is to help people feel better faster, while empowering patients with more healthcare choice and control.
---