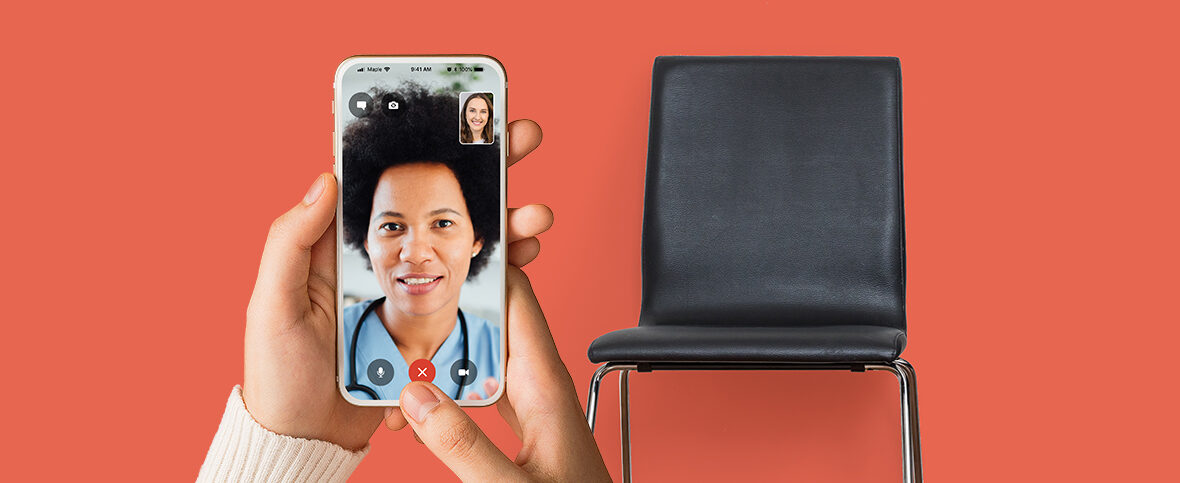 5 digital health trends we're keeping an eye on
Digital Health Week is a week-long celebration of what digital and virtual health bring to the healthcare system. This year, it runs from November 14 to the 20, and the theme is bridging the technical-political divide, where the need for stronger health data governance will be front and centre. But it also showcases how healthcare is continuing to evolve, how technology can support Canada's aging population's health needs, and how it can help create a better patient-provider experience.
In honour of Digital Health Week, here are five digital health trends we're keeping an eye on.
The evolution of telehealth
Telehealth in Canada isn't new, but in 2020, the COVID-19 pandemic turned it into the new norm. With provincial lockdowns and not much known about the virus, the safest way to conduct healthcare visits that didn't require an in-person exam was through virtual care. In June 2021, more than a year after the pandemic hit, 40% of Canadians were still using virtual care — and studies predict this number will keep growing.
Telehealth, also known as virtual care, offers convenience and flexibility to both patients and providers, and seeing a doctor online in Canada has never been easier than with a telehealth service like Maple. Maple gives you access to online doctors 24 hours a day for a wide variety of healthcare services, from general practitioner visits to dermatology appointments.
Compare that to how long it takes to get a doctor's appointment in Canada — for specialists, the average wait time is 11 weeks, and walk-in clinics often have you sitting in a waiting room for at least an hour. Telehealth is not only the smarter option, but it continues to help ease the burden on our already strained healthcare system.
In the coming years, telehealth will continue to evolve as it matures. Expect more partnerships between publicly-funded programs and private teleheath companies, and smoother integration of telehealth platforms across the entire healthcare system, including in clinics, hospitals, long-term care homes, and more.
Connected healthcare devices
Connected healthcare devices have come a long way and greatly impact remote care. These devices connect to your phone or computer to transfer patient data that healthcare providers can access remotely.
Devices can be used for many medical conditions, from blood pressure monitors and insulin pumps to personal health and fitness devices like the Apple Watch. Canadians are no strangers to these, with a reported 32% using health apps on their smartphones.
Consistent monitoring can improve your overall well-being and prevent long-term health problems. For example, if you're staying on top of your fitness goals with your Apple watch, you have the potential to stay at a healthy weight, improve your cardiovascular health, and much more, which can also reduce costs for hospitals — a win-win all around.
Apps for wellness
Wellness apps are an excellent way to stay on top of your mental and physical health. These apps, which range from mindfulness to diet and nutrition to health and fitness, cut the need for in-person classes or sessions and track your progress to help you feel healthy and motivated. Notifications can also help users feel engaged, providing a "gamified" experience while benefiting their health.
Headspace, for example, is one of the most popular wellness apps out there. It's all about daily guided meditation and mindfulness, and it's not just geared toward your friends who love yoga. That's the beauty of most wellness apps, they're for everyone — whether you're a beginner or an expert, and they can help you develop healthy habits from the comfort of your home.
Portable digital health data
The way healthcare providers store your data has changed immensely over the years. Today, patients and providers can experience a streamlined process where multiple providers can share portable electronic medical devices.
There are three types of medical records used by healthcare providers and patients which help to facilitate continuity of care:
Personal health records (PHR) — any record you keep for yourself. It could be paper, on the internet, or on a device. Usually, however, it's on the internet and provides quick patient access to health results.
Electronic medical records (EMR) — electronic files used by a healthcare provider that stay in their computer system — a much more efficient way to store your health information than having stacks of paper everywhere.
Electronic health records (EHR) — this type of record can be shared by multiple providers using the same system. More virtual collaboration between providers means they can provide the most up-to-date information about your health.
With a virtual care app like Maple, all of your portable digital health data is securely stored. This means that you can choose what you share with our virtual healthcare providers and that only doctors you have a consultation with can access the information you share to diagnose, treat, and provide prescriptions online, as necessary.
If you choose to do so, you can also share your medical record on Maple with your family doctor for better continuity of care.
Remote care coordination
Remote care coordination is a convenient and helpful way for clinical teams and healthcare providers to support your care plan. Care coordinators are the masters behind this whole process, which can include anything from check-ins to monitoring progress and online visits and treatment— the kind of care that would likely have to be spread out if it were in-person. This streamlined approach also makes it easy for providers to intervene if any health issues arise.
At Maple, a care concierge can make your virtual healthcare experience as easy as possible by helping you prepare for virtual medical appointments, book an online doctor's appointment, follow up on lab results, and much more.
Digital Health Week and beyond
The advancement of digital and virtual health has helped create a more efficient healthcare system. The ultimate goal, however, is to foster excellent patient and provider relationships and put continuity of care — and convenience — at the forefront.
Maple continues to make this a priority. When you sign up with Maple, you're connected to Canada's largest online network of doctors and healthcare providers, which you can speak to from your phone, tablet, or computer for same-day telehealth appointments.
Simply log in to the app, click "Get care", and you'll speak to a Canadian-licensed doctor in minutes who can provide a diagnosis and prescriptions online for many common conditions. You can also get a consultation with a specialist online within hours, no referral necessary.
Discover why Maple has over 400,000 five-star reviews from Canadians coast-to-coast — get started on your virtual health journey today.