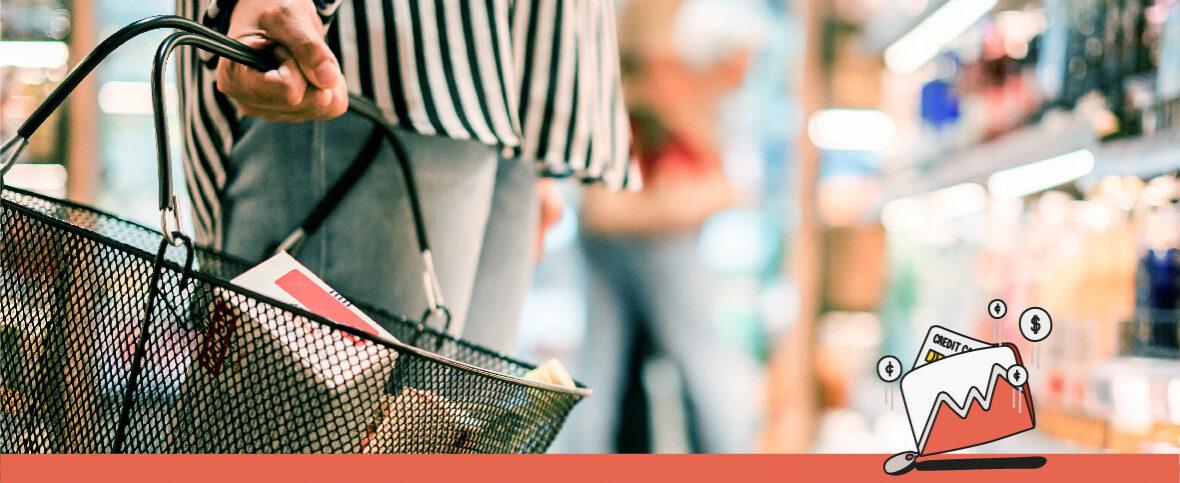 8 strategies to help employees with inflation
In June, Canada's inflation rate rose to 8.1%, the fastest annual increase in the cost of living in decades. While not the only culprit, gasoline was one of the biggest contributors to the soaring inflation rate, as prices at the pump shot up by a brutal 54.6% compared to the same time a year ago.
This is, unfortunately, not great news for Canadians. As a result of inflation, many workers are experiencing far more financial stress than anticipated. According to a recent FP Canada Financial Stress Index survey, more than two-thirds of Canadians now cite rising prices at grocery stores as a cause of financial stress while 39% of Canadians report feeling less optimistic about their financial future now than they did in 2021.
So how can companies best support their employees during this challenging period and help mitigate inflation anxiety? Here's what you need to know.
What's inflation anxiety?
"Inflation anxiety" is an umbrella term used to describe stress about rapidly rising prices. In other words, the instability of prices feeds a sense of discomfort and feelings of anxiety about the future. As prices go up, employees feel their purchasing power go down, which often coincides with them having to make painful decisions such as having to cut back on common expenses or forgo big purchases, projects, or travel plans.
We all experience inflation anxiety differently, but one common psychological coping mechanism is to seek more control. Employees may, for example, reshuffle their budget, start meticulously tracking their expenses, and carefully review their benefits package. 
For this reason, employers should carefully evaluate their benefits packages to ensure they optimize value and adequately address their employees' pain points. Otherwise, some employees, feeling pinched and seeking a way to relieve the pressure of inflation, may start turning an eye toward the job market and exploring their options. 
Here's how to help employees with inflation, including strategies your organization can implement to deliver maximum value with your benefits package.
1. Generous work-from-home options
Remote work has many pros and cons, but there's no denying that it provides clear cost savings for employees. Free from their long commutes to work, employees save on gas, public transportation, or other travel expenses, and can prepare food at home instead of visiting a nearby food court every day. All these remote work cost savings add up, especially for employees tightening their belts.
With remote work, it's important, of course, to make employees feel that your organization supports and encourages remote workers, and that work from home is properly integrated within your organization's workflows. 
For example, providing a home office budget can help employees pay for furniture, equipment, or plants while sending a strong message that your organization values their comfort at home and that they shouldn't hesitate to use this extra bit of flexibility to their advantage. Some employers go even further by offering phone stipends and home internet as remote work expense reimbursements.
2. Financial planning services
Financial well-being is a major concern for employees across almost all industries. Financial stress is connected to adverse effects on physical and mental well-being – employees dealing with financial stress are twice as likely to report poor overall health and four times as likely to suffer from sleep problems, headaches, and other issues.
When left unchecked, financial stress can bleed into the workplace, negatively impacting employee engagement, productivity, and motivation. Providing financial advice for employees can be a wonderful way to remedy this and support your employees during this period and beyond. Your company may, for example, organize financial literacy and wellness workshops or seminars with guest speakers to help employees reach their financial goals. 
Another option is to provide access to financial planners, allowing employees to work alongside a finance coach to optimize their budget, plan for retirement, reduce their debt, and improve their financial stability.
3. Robust mental health support
Investing in a robust mental health solution can also be an impactful way to show people in your organization that you care about giving them the tools, support, and safe space they need to manage and navigate anxiety. 
A teletherapy solution like Mind by Maple provides a lot of flexibility for employees, allowing them to consult a mental health professional from the comfort of home, on their schedule. Mind by Maple is also paired with meditation and mindfulness programming to provide daily value for employees.
Identifying mental health issues early and providing the right treatment can make a dramatic difference in employees' lives. By removing cost and logistics as barriers for your employees, you help them access support in a flexible manner. This can have a wide range of positive benefits for your workforce, including reducing disability claims for mental health-related issues.
4. Wellness benefits for employees
In recent years, employers have paid increased attention to wellness benefits and work-life balance. Simply put, helping employees stay physically and mentally fit can help employees develop their resilience, reduce disability claims through early intervention, and many other positive repercussions.

Common examples of wellness benefits include:
Physical health budget or activities

Engaging mental health support

Flexible hours and schedules

Work-life balance initiatives

Increased paid time-off

Employee assistance programs
Employees struggling with financial stress due to inflation may turn to their wellness benefits to help them cover different expenses. To support your team, consider sending out communications that remind your people what their benefits plan cover and how they can maximize their use.
5. Professional development budget
Professional development shouldn't stop just because someone has landed a great job in your organization. Instead, employers should seek to create opportunities for formal and informal professional development.
Investing in professional development programs for employees can take many forms, including "lunch and learns", internal mentorship programs, company or industry expert speakers, and online programs. In other words, anything to help your people learn and grow. 
Professional development has benefits for both employers and employees. According to a 2020 PWC report, 67% of Canadian employees who were given upskilling opportunities were more productive and had more confidence in organizational leaders.
During a period of inflation, professional development can also help employees feel less anxious, as spending time investing in their growth reminds employees they can feel secure knowing they're building valuable skills that can serve as the backbones of their careers.
6. Employee discounts on childcare costs, insurance, and more
As people in your organization seek new ways to save on common expenses, now could be an excellent time to roll out a new series of employee discounts – imagine savings on childcare costs, pet insurance, or home and auto insurance, for example.

Employee discounts can take many different forms, so the sky's the limit here. You can implement discounts on everything from dining to fitness to retail – it all depends on what your employees value. Before rolling out new discounts, don't hesitate to poll your employees to find out what your people prioritize and where your efforts might be best allocated. 
7. Offer retention bonuses
A retention bonus is a one-time payment given to an employee in exchange for their agreement to stay with your organization for a set period of time. This type of bonus has seen a rise in popularity in recent years – a 2021 World at Work survey showed that 22% of employers were considering retention bonuses that year, up from only 10% in 2016.

A retention bonus can help ensure more stability and continuity for organizations while giving employees that little extra bit of cushion to absorb unexpected expenses. In other words, retention bonuses can be a win-win, an effective tool to help both the organization and its employees navigate the choppy waters of inflation. 
8. Proactively address employee concerns
Organizations today have to think about how employees experience their work lives, and what their people really value. Simply organizing informal conversations with your people about their objectives and current obstacles can help you uncover great insights into what matters to your team. 
In other words, don't wait for a sudden departure or for something to break before you decide to fix it. Make time to connect with your people and use their insights to create a total compensation package that really addresses their needs. 
Helping employees get through 
Strategies to help employees with inflation aren't one-size-fits-all. Whether a successful approach involves financial wellness, professional development, or an employee discount, the most important thing is that you deliver benefits that work for your workforce.
With inflation complicating employee pay, now's a great time to reexamine your total compensation package and make changes to better support your people. If you'd like to speak with a member of our team on how to bring your employee benefits to the next level, please reach out. We'd be happy to share our insights with you as Canada's leading virtual care platform.