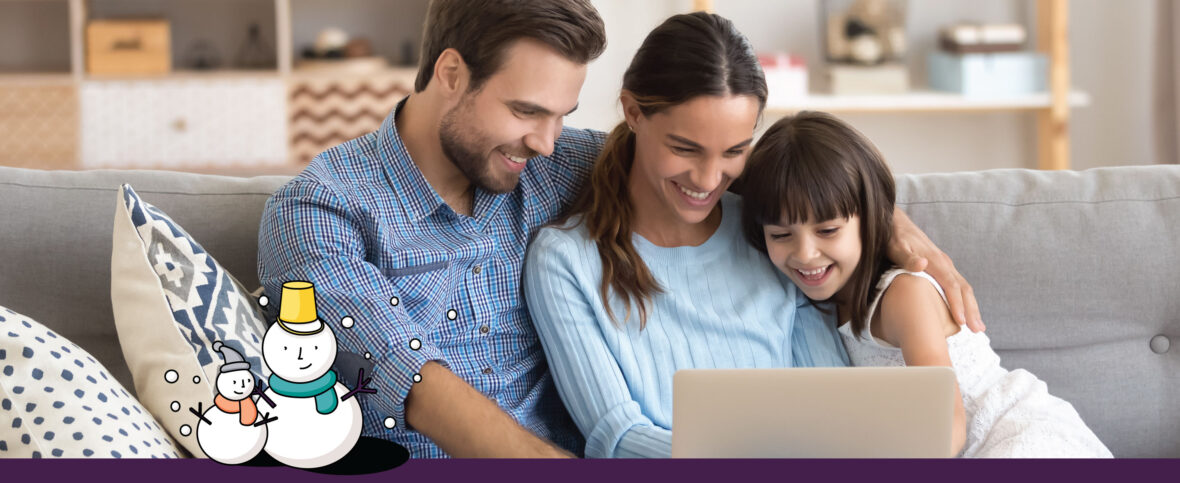 Seven tips for a safe and social holiday
The winter holidays is one of the busiest times of the year. Normally, people across Canada would be boarding flights to visit loved ones, or preparing to host friends and family. This year is different. Canadian cities will be in varying stages of lockdown in the coming weeks. 
As we keep each other's health top-of-mind, here's how you can make your festivities both social and safe.
1. Find outdoor activities
Outdoor activities are a great way to see loved ones while lowering the risk of contracting COVID-19. When you speak, cough, or sneeze, small particles of liquid called respiratory droplets exit through your mouth and nose.You can contract the virus by inhaling the respiratory droplets of an infected person. Outdoor spaces have more air flow, making it harder for you to inhale other people's respiratory droplets when you're outside.
There are lots of other health benefits to getting outside. Since we've been spending so much time at home, we're moving our bodies less. Hiking, ice skating, or a simple walk through the park can have positive physical and mental health effects. Try inviting a friend to meet you outside. You can get moving and spend some quality time together.
Even outside, it's possible for COVID-19 to spread. Wearing masks, using hand sanitizer, and staying six feet apart are still important.
2. Make new traditions with kids
Holiday traditions are something every child looks forward to. This year brings opportunities to form new traditions while prioritizing your family's health. Try making hand-crafted greeting cards, booking a virtual Santa visit, or dropping off baked goods for your neighbours. 
If you have long-standing traditions you can partake in safely, go for it. Routine is an important aspect of kids' mental health. Be sure to talk with your children about your holiday changes. That will help them know what to expect, and you can characterize the changes in a positive way.
3. Bring family traditions to your elderly relatives
Since elderly folks are more susceptible to COVID-19 complications, in-person reunions aren't safe. However, there are ways to include your older relatives without putting them at risk. If they can't be with you in-person, consider:
Making their favourite dishes and delivering them to their home in advance. 

Organizing a family video call.

Recording a holiday greeting and sharing it with your elderly relative.

Dropping off hand-written cards.
4. Organize virtual hangouts
A virtual party is a great way to have safe holiday fun. Plan a call with your friends or family, just like you'd plan a party. Decorate your space, dress up, and enjoy each other's company!
A virtual hangout could help minimize stress and anxiety for you and your loved ones. Social support builds our resilience. Especially for people who are spending the holidays alone, virtual events are a safe opportunity to enjoy the mental benefits of interpersonal bonds.

5. Use snail mail
Sending snail mail is a novelty these days, and it's the ideal time to get back into the habit for two reasons. First, creative outlets like writing and drawing can be used as part of a mindfulness practice. These activities require gentle concentration, keeping you grounded in the present moment and slowing down racing thoughts. This practice, over time, helps reduce symptoms of depression and anxiety.  
Second, sending packages in the mail is a very safe way to spread cheer. The likelihood of COVID-19 transmission from handling mail is low. 
6. Enjoy your neighbourhood light displays
Light displays are a hallmark of the holiday season. Light festivals are taking place across the country this year, and since they're typically outdoors, they're a safer holiday activity. Many events have a drive-through option, so you can admire displays from the safety of your vehicle. If you're looking to get some exercise, explore the lights closer to home. Take a tour of your neighbourhood handiwork on foot. 
7. Make time for yourself
This season, changes to traditions might leave you feeling a little blue. It's normal to feel sad in difficult moments. Taking care of yourself as personal needs arise is a smart way to avoid burning out. Being there for others is important, but so is taking time to unwind. Whether it's time alone with a good book, a supportive friend, or your therapist, don't forget to make time for yourself during the busy weeks ahead.
From virtual gatherings to hand-written letters, there are lots of ways to have fun together while staying apart this year. With a little creativity, you and your loved ones can have a great time this holiday season.
If you're not feeling like yourself, speak to one of our therapists. You can book an appointment from the comfort of home from your phone, tablet or computer.