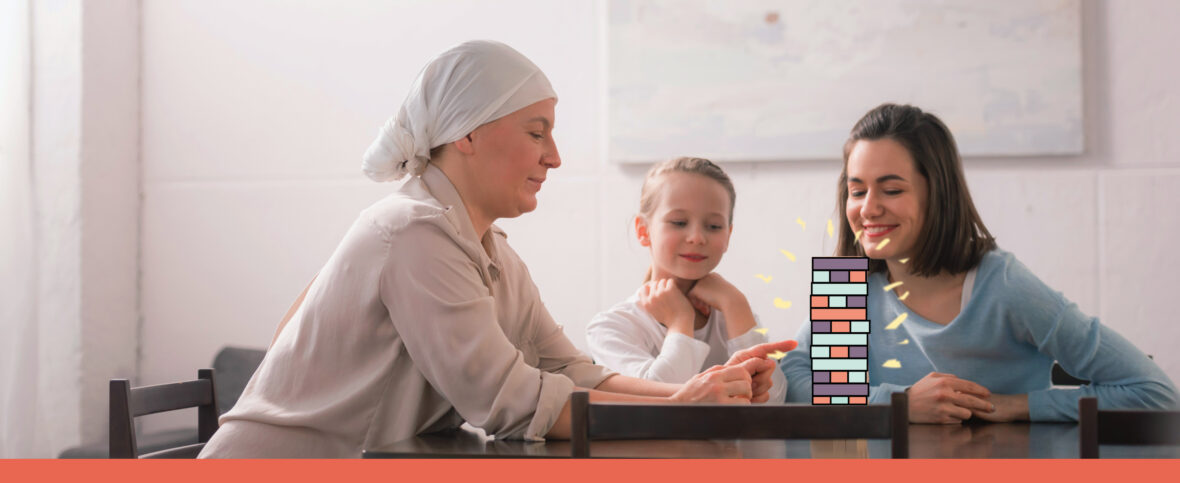 How to support someone who's been diagnosed with cancer
A cancer diagnosis is one of the most difficult things that can happen in someone's life. A strong support system is essential for coping with the upcoming challenges. 
If you're in the position of supporting someone, you're playing an important role in their hopeful recovery. It's tough to know the best way you can help. Here are a few places to start. 
Help with everyday tasks
Cancer treatments like radiation and surgery are physically and mentally draining. While the patient is on the mend, they'll probably appreciate help with everyday things. These can include:
Cleaning the house.

Getting groceries.

Taking kids to school or extra-curricular activities.

Preparing extra meals.

Driving the patient to and from doctor appointments.

Helping with pet care, like dog walking.

Physically demanding housework, like mowing the lawn or shovelling snow.
Even though these things are nice to do, make sure you ask first. Some people need time alone to process their feelings. It's tough to suddenly have less independence while in cancer treatment. 
Emotional support
Emotional support involves showing empathy and compassion. You can practice emotional support in a lot of different ways, including:
Listening
Let your friend or loved one take the lead in conversations about their experience. When you're trying to make someone else comfortable, it can be tempting to draw comparisons between what's happening to them and something that you've gone through. It's a well-meaning way to relate, but it can make someone feel like they're not being heard. If someone is opening up to you about their cancer experience, sometimes the best way to support them is to simply listen. 
Expressing that you care
This could be through sending a card, getting together, or a simple phone call. Going the extra mile to let someone know you're there for them will help them feel less alone. 
Making yourself available
Emotions can be tricky. Processing them takes time, and it doesn't always happen on your schedule. So if you want to be a support to someone with cancer, let them know that you're available to talk whenever they need you — morning or night. 
Suggest support groups
Sometimes the best support comes from people who have gone through the same thing. Provide resources for where your loved one can find support groups. Here are a few places to start:
Educate yourself about cancer
Someone who is diagnosed with cancer diagnosis has to take in a lot of new information at once. For some people, their diagnosis could be the first time they're learning about cancer in detail. Consider doing some research about it yourself as a show of support. It will be easier for your loved one to share information with you if you already know the basics. And, you won't have to inquire about stressful specifics about the illness from your loved one.
Keep up your support after treatment
Transitioning back to everyday life after cancer can be challenging. With any serious illness, it's common for people to have symptoms of trauma when it's over. Remember to be gentle with someone who has recently recovered. If you can, continue offering the same support you did when they were diagnosed. They could still be processing what happened for months to come.
Don't forget to care for yourself
Caregiver burnout is a real thing. It's when a supportive person becomes mentally, emotionally, and physically fatigued. When you're pouring your energy into helping other people, you might forget to recharge your own batteries. It's important to find the time to take care of your own needs. That way, you'll have energy to keep supporting your friend or loved one through their  cancer diagnosis.
Symptoms of caregiver burnout include:
Emotional outbursts.

Difficulty falling asleep.

Drinking alcohol or overeating.

Feeling tired all the time.

Anxiety or depression.

Getting sick more often.

Having no time for other friends, family or socializing.

Feeling overwhelmed or hopeless.

Feeling resentful towards the person you're taking care of.
There's no shame in feeling exhausted. If you think you might be going through burnout, here's what you can do:
Accept help from others
If someone else offers to temporarily take over caregiving duties, say yes. 
Schedule something that's just for you
Maybe it's seeing a movie, or getting out of the house to visit a friend. Whatever you choose, looking forward to personally rewarding activities can help create a lighter mindset.
Access support networks
If you're a caregiver, you're also on a difficult journey. Here are a few groups for you to consider:
Supporting someone who's been diagnosed with cancer will make a big difference in their treatment journey. Whether it's practical or emotional support, showing up for someone can make a scary diagnosis feel more surmountable. In the process of taking care of other people, holding space for your own needs is important. Lean on friends, family and support groups to help a loved one with cancer take care of their health.
Oncology navigators are experienced in providing essential support for people who've been diagnosed with cancer, and their network of friends and family. They can clearly explain the process of going through cancer treatment. And, they can provide personalized counselling for managing your risk factors. You can speak to our oncology navigators online from the comfort of your home.