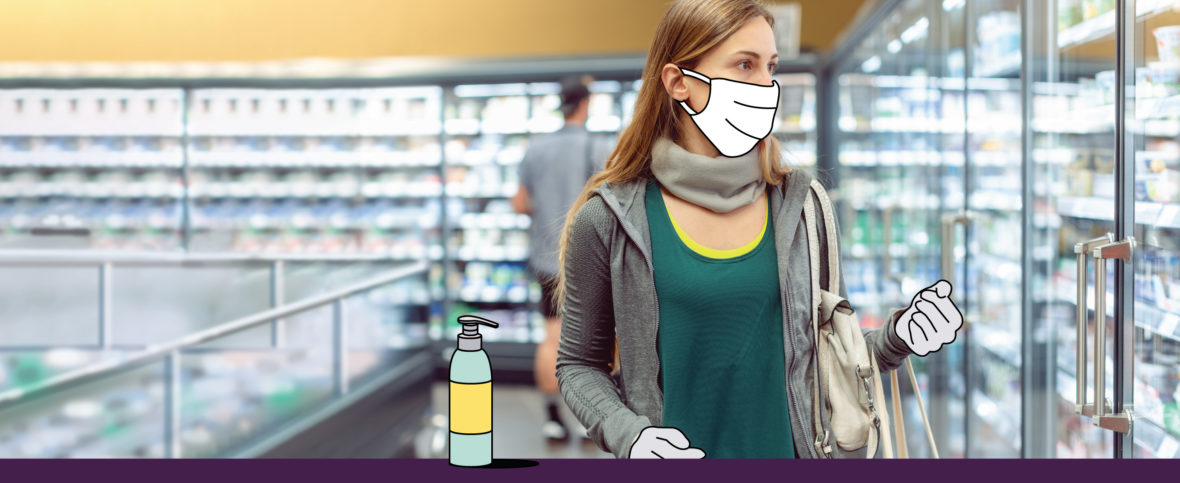 September 29, 2020 • read
Is Canada entering the second wave of COVID-19?
New cases of COVID-19 are on the rise in Canada. This has led to lots of speculation about whether or not Canada is entering a second wave. 
We definitely need to continue exercising caution. Public health information shows upticks in cities across the country in recent days. Ottawa confirmed it's in the midst of a second wave, and Toronto reinstated restrictions on social gatherings after reporting a huge jump in cases. This is a critical moment for stopping the virus from coming back in full force.
What exactly is a second wave?
Curves and waves are both ways to describe the way COVID-19 case numbers look on a graph. At the outset of the pandemic, the curve on the graph spiked like a rising wave because there were so many new cases reported. Thanks to measures like quarantining and contact tracing, the curve flattened as cases went down. But COVID-19 didn't go away, and loosening social restrictions has pushed case numbers back up. Experts are worrying about a second spike of new infections. 
How is the second wave different from the first wave of COVID-19?
There are some new challenges Canadians will face during a second wave of COVID-19. Here's what's changed since the first wave:
Cold weather.

 The virus spreads more easily indoors than outdoors. As the cold weather drives us inside, indoor social gatherings of any size have a high potential for spreading COVID-19.

Flu season is here

.

During a typical flu season, hospitals are used to an uptick in traffic from flu patients. Adding a rush of COVID-19 patients could spread hospital resources too thin. Plus, we're not sure how COVID-19 interacts with flu strains, so having patients with either virus in close quarters isn't ideal.

Mental health is an ongoing concern.

One study found that

84%

of people surveyed have declined in mental health since the start of COVID-19. As cold weather approaches, there will be fewer opportunities to socialize in a safe way. In combination with emotional challenges leftover from the first wave of COVID-19, this could leave people in need of extra mental health support.
How will Canadians know if the second wave is here?
Each community, city, and province is facing different realities when it comes to COVID-19's second wave. That's because there's no specific number of cases that makes the second wave official. Public health leaders review the number of COVID-19 cases reported in each area daily, and compare it to the area's previous totals, dating back to March. When a region has an surge that remains high over a number of days, it's a red flag. Not sure how your area is doing? Check here.
What should we do to stay safe during the second wave?
It's no secret that being indoors all the time can be rough physically and mentally. The good news is that the longer we practice COVID-19 safety measures, the quicker COVID-19 goes away. To stop the momentum of the second wave, you can:
Wear a mask outside of the house.

Socialize within your bubble.

Wash and sanitize your hands frequently.

Stay at home if you feel sick.

Get tested for COVID-19, especially if you think you've been exposed.

Socialize with elderly or immunosuppressed people at a safe distance, or virtually.

Avoid unnecessary travel.

Have the things you'd need for two weeks of isolation ready at home in case someone in your household tests positive.
How to get tested for COVID-19
If you think you've been exposed to COVID-19, or you're starting to have symptoms, public health guidelines suggest that you get tested. There are three ways to test for coronavirus:
Point of care tests. A medical professional will swab your nose or throat, and use a machine to determine if you test positive for COVID-19.

Antibody tests. These are blood tests that show if you've had COVID-19 in the past. Even if you have antibodies, you may not currently test positive for COVID-19. Antibody tests help Public Health track the spread of the virus through communities.

Molecular polymerase chain reaction tests (PCR tests). These are also taken by nose or throat swab, but results are analyzed in a lab. Turnaround time for these tests is usually 1-3 days.
If you're unsure, there's a self-assessment tool that can help you gauge the likelihood that you have COVID-19. Here's a list of where you can get tested in each province. 
If there's any silver lining to a second wave, it's that we have the power to stop it in its tracks. Communities across Canada were able to do it after the first wave, and with some diligence, it's possible to do it twice. And while you're looking out for friends and family, don't forget that it's important to look after yourself too.
If you're feeling sick, have questions about your health, or need a convenient prescription refill, talk to a doctor online. It only takes a couple of minutes.