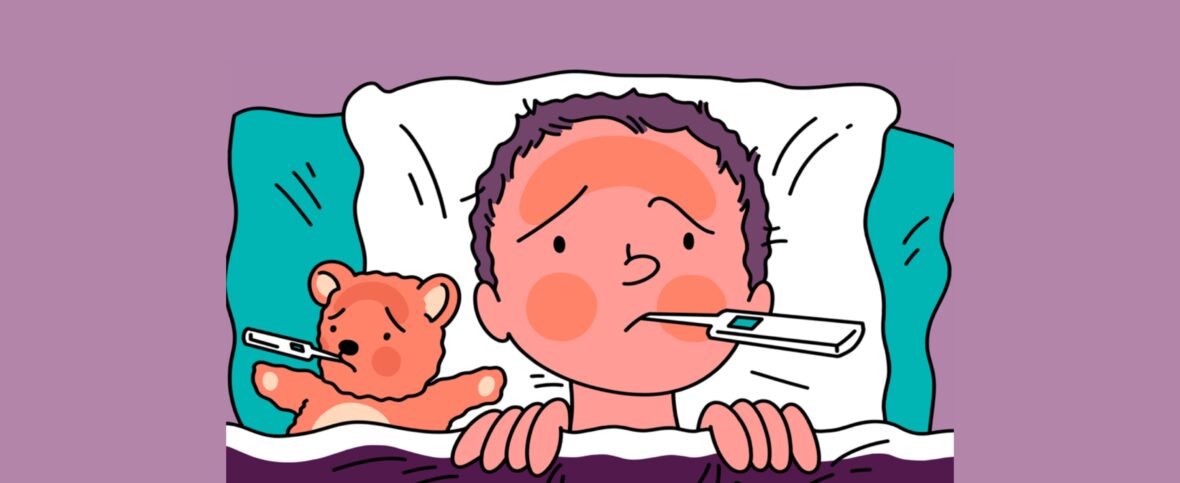 Strange COVID-19 symptoms in kids: Kawasaki syndrome & "COVID toes"
As COVID-19 progresses, we seem to learn more about strange symptoms every day. While kids are at lower risk of becoming seriously ill if they catch COVID-19, there are some worrying symptoms popping up that every parent should look out for. Let's start with everyone's first big question.
Why are you just hearing about new, serious symptoms?
COVID-19 is a brand new virus. Six months ago, it wasn't on anyone's radar. That not only means that most people were unprepared for this new reality, it also means that scientists haven't had a lot of time to conduct studies on the virus. With something like the common cold, scientists have had decades to conduct systematic research on possible symptoms for every age group out there. For COVID-19, while we've known about some symptoms for quite some time, others we're just discovering.
Not only have we had limited time for COVID-19 research, but kids also (thankfully) don't tend to get as sick as adults. It's been rare for doctors to be able to follow the progression of the illness in kids from beginning to end. All the evidence for the two new symptoms we're talking about here is purely anecdotal. Meaning, doctors have seen a notable increase in these types of cases, but there hasn't been enough research to prove how they're linked to COVID-19. That said, it would also be pretty strange if these conditions were popping up in isolation.
What is Kawasaki syndrome?
Also called Kawasaki disease, this illness causes inflammation or swelling in blood vessels throughout the body. When found early, most children recover without any problems. However, if left untreated, it can damage a child's coronary arteries, which carry blood to the heart. Kawasaki syndrome isn't new — it's one of the leading causes of heart disease in kids today — but scientists haven't found an exact cause for it either.
What's the link between Kawasaki disease and COVID-19?
Doctors are seeing an increase in Kawasaki-like symptoms. But since we haven't had time to study the cause or symptoms, we can't say for sure that this is Kawasaki syndrome. What we do know is that there's been an increase in the number of kids exhibiting Kawasaki-like symptoms. Lacking definition, you may also hear this phenomenon referred to as "multisystem inflammatory syndrome." 
Symptoms of this Kawasaki-like disease.
Look out for these symptoms of multisystem inflammatory syndrome:
Abdominal pain 

Fever

Red eyes

Rash on the hands and feet

Gastrointestinal symptoms, including nausea, vomiting, and diarrhea
What are COVID toes?
As the quirky name suggests, this one is new. Like COVID-19, which we all started off inappropriately calling "the coronavirus", we'll likely have a more scientific-sounding name for this condition soon. In the meantime, we're just calling it what we think it is — a COVID-19 related condition that affects your toe(s), or "COVID toe".
Once again, there hasn't been enough time to conduct systematic research so we're not entirely sure what the cause is. But, doctors believe it's likely linked to small blood clots in the veins caused by COVID-19.
What does COVID toe look like?
The term COVID toes refers to blueish-red or purple bumps that hurt or feel warm when touched. The bumps look similar to frostbite, but we're thankfully getting out of the season for that. It's worth noting that while COVID toes appears most commonly in kids, it's also been seen in teens and young adults.
What to do if your child has these strange symptoms
It's important to get both conditions looked at by a doctor. That's especially true if your child has strange rashes or red eyes that could indicate an inflammatory illness like Kawasaki disease. The long-term health of your child's heart isn't something to put off until your regular doctor's office takes appointments again. Virtual doctor appointments are great for both these symptoms. Simply snap a picture and send it to the doctor or have a video consultation so the physician can do a visual inspection. They can then let you know if the symptoms warrant an in-person assessment.