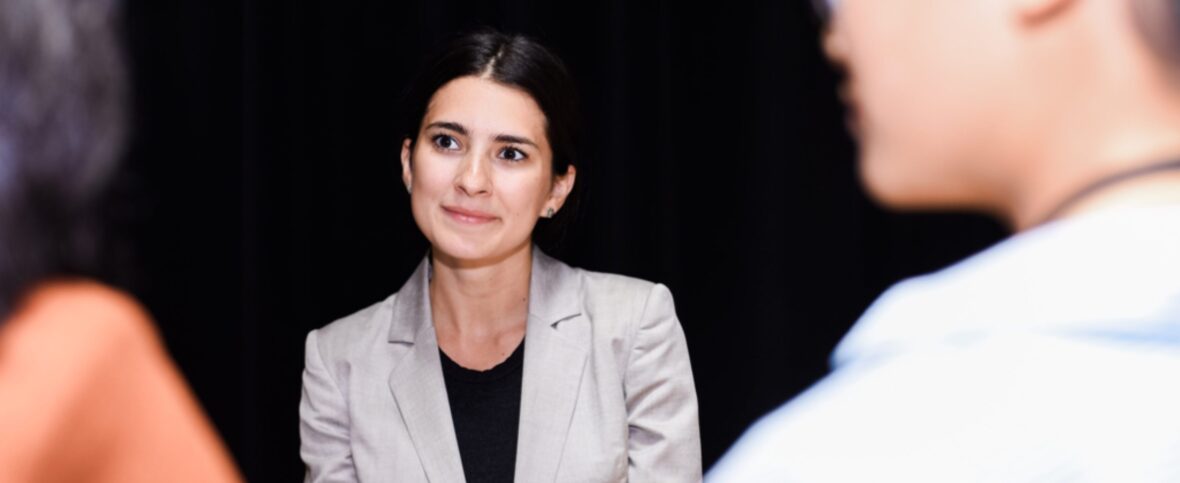 September 13, 2017 • read
TKS shapes youth into the leaders of tomorrow
Maple Co-founder Roxana Zaman supporting TKS at the 2017 Innovate Conference. Working with industry giants like Google, TED and Airbnb, and founded by our friends Navid and Nadeem Nathoo, The Knowledge Society (TKS) is a leading innovation program for young minds.
Looking forward: teenagers today, leaders tomorrow
Brothers  Navid and Nadeem Nathoo founded The Knowledge Society (TKS) to help young students become leaders in their industries. TKS is a North American innovation program for teenagers between the ages of 13 and 17. Guided by world-class mentors, students get to collaboratively explore cutting-edge topics while developing the skills required to shape the future. Curious about genomics, alternative energy sources or GMOs? That's just a taste of some of the subject material TKS covers. The programs replicate the learning environments of companies like Google and Facebook.
Coming from backgrounds in consulting and entrepreneurship, Navid and Nadeem are giving today's youth the opportunity to explore real life issues, interact with industry leaders and learn from like-minded peers. Navid explains:
We're going to look back in 10 or 20 years when incredible breakthroughs in technology and science happen, and when the people leading those breakthroughs get interviewed, they will be asked "How did this all start? What inspired you?" And they will say something like – 'Well, when I was 13 years old I was exposed to this, and I found my passion early and became obsessed with this problem.
With research and technology developing at a breakneck speed, the founders don't believe that age should hold back kids from attempting to tackle the toughies we're facing today. Major issues like world poverty, international politics, and financial markets are all fair game. Mentors and speakers who are leaders in their fields help shape, develop and deliver the curriculum. For example, students in the Toronto program are hosted by McKinsey & Company to explore innovative topics such as cryptocurrency, artificial intelligence, and virtual reality in a collaborative environment with world-class mentors.
In San Francisco, students can interact with in-house mentors from companies including Facebook, Google, and Microsoft. Meanwhile in Calgary, students can get exposure to Alberta's innovation ecosystem. The program hosts offsite visits to companies like Critical Mass, Assembly, and Kudos.
---
Fun fact: TKS students weighed in on the Maple go-to-market strategy
At Maple, we're focused on making healthcare accessible and convenient for Canadians everywhere. Similar to the innovation mantra at TKS, we're no strangers to creating disruptive solutions to make a positive impact in people's lives.
Prior to officially launching Maple earlier this year, we had the unique opportunity to engage directly with the TKS students. The objective? Get their thoughts and ideas for our go-to-market strategy. We visited the group at the McKinsey & Company head office in Toronto for a 3-hour brainstorming and pitch session.
Starting with understanding the value of our service and the needs of Canadian patients, each student pitched their ideas for how they'd introduce Maple to the public if they were launching the company.  Along with helping us keep our egos in check (they came up with some great suggestions we would have never thought of), this experience honed their critical thinking and presentation skills, and gave them the chance to see the trends and changes impacting healthcare in the coming years.
Maple Co-founder and COO Roxana Zaman reflects back on the experience:
We walked away with a tremendous amount of perspective and ideas around how to best launch Maple. From suggestions to partner with government organizations to increase accessibility to our services or working with home care and retirement home providers to increase comfortable access to care for seniors, this group's ability to process information and quickly come up with ways to solve some of our own business challenges was impressive.

Critical thinking and problem solving are two of the most important skills you need to be successful as an entrepreneur. Personally, I think it's a great idea to expose kids to these types of innovative environments as early as possible. This way, they'll have a much bigger head start in entrepreneurship than our generation ever did.
---
2017 TKS Innovate Conference
TKS recently held a day-long conference in Toronto. Even though it took place on a summer weekend, it didn't stop over 1,500 students from submitting an application to attend. The kids made the trek downtown to Corus Quay to hear speakers from both emerging names and big brands. Companies like Disney and Microsoft shared their insights on future trends and projects in development. Topics like augmented reality, quantum computing and cryptocurrencies dominated the discussion. So needless to say, it was definitely a bit more intense than your usual Sunday morning.
How did Maple participate? Following Airbnb on stage, we were happy to reconnect with the TKS kids. First, we shared an update of what Maple's been up to since launch. Next, we spent one-on-one time with students to answer their thoughtful questions about where the future of healthcare is heading. We believe this 'peek behind the curtain' can help empower and motivate our youth to learn more, pursue their passions, and look for solutions to the problems facing the world today. It can be heavy stuff, but TKS makes it fun and engaging.  Curious? You can watch the TKS company presentations (Maple's presentation is there too!) at the TKS Facebook page. 
We've known about TKS and the amazing work they're doing for some time now, so we jumped at the chance to be a part of it at the TKS Conference. We wholeheartedly support them and their mission to inspire today's kids. After all, our futures depend on it!
---
Maple: Our mission is to help people feel better faster, while empowering patients with more healthcare choice and control.
---