Maple offers access to Headspace, global leader in mindfulness and meditation, to support employee mental health
This past year has placed an immeasurable strain on the Canadian workforce. In order to find balance, employees are embracing new tools to manage stress and anxiety, and organizations are looking for ways to better support the health and wellness of employees. That's why, we've partnered with Headspace to offer our clients access to best-in-class meditation for their employees as a mental health resource. Our exclusive partnership will provide employees with guided meditation, mindfulness practices, and evidence-based content to support them wherever they are on their healthcare journey, enhancing the impact of Maple's digital health and wellness programs.
Maple has long been an advocate for addressing mental health support and access to mental health professionals for employees. In 2019, Maple was one of the first virtual care providers to launch an on-demand bookable therapy platform with individualized treatment plans for concerns like helping patients navigate life changes, address work stress, and increase focus, performance, and motivation. Including Headspace as a part of this evolving mental health toolkit will further provide employees with guidance on areas such as sleep, relationships, and stress and anxiety, in a way that easily fits into day-to-day life.
"As organizations rebound from the effects of the pandemic, employers are looking for new and innovative tools to help employees integrate healthy mental health habits into day-to-day life," shares Christy Prada, VP of Business Development at Maple. "Headspace is the global leader in mindfulness training and practice, with hours of guided meditations and curated content, and a perfect complement to Maple's mental health offering, creating an industry-leading front door to mental health support."
Approximately 85% of organizations who work with Headspace worldwide say that its tools have helped their employees with stress, anxiety and resilience since the COVID-19 crisis. Learn how you can create a healthier and more productive workforce by getting in touch with Amii Stephenson at [email protected] for more information.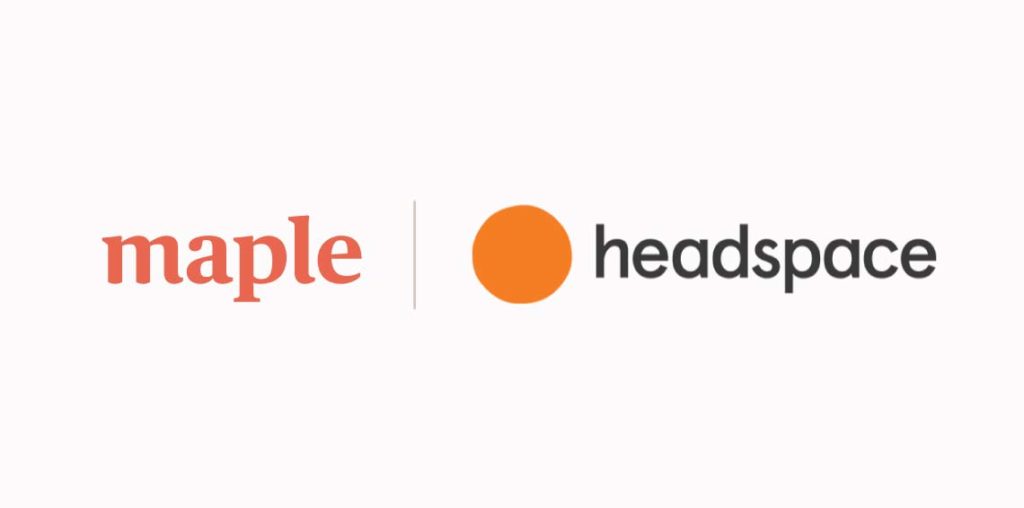 Maple is a technology platform that tackles some of the world's most meaningful issues in healthcare, starting with timely and convenient access to doctors and other healthcare providers including dermatologists, psychiatrists, and oncology navigation experts. It allows patients to connect directly with doctors and specialists for medical care in minutes from their phone or computer 24/7, and also provides custom technology solutions for employers, insurers, hospitals, and clinics.
To get in touch: [email protected]