Online COVID-19 screening now available in Ontario.
Connect with an Ontario-doctor through your phone, tablet, or computer from the safety of home to talk about possible COVID-19 infection and your next steps. Available 8am to 8pm ET, seven days a week.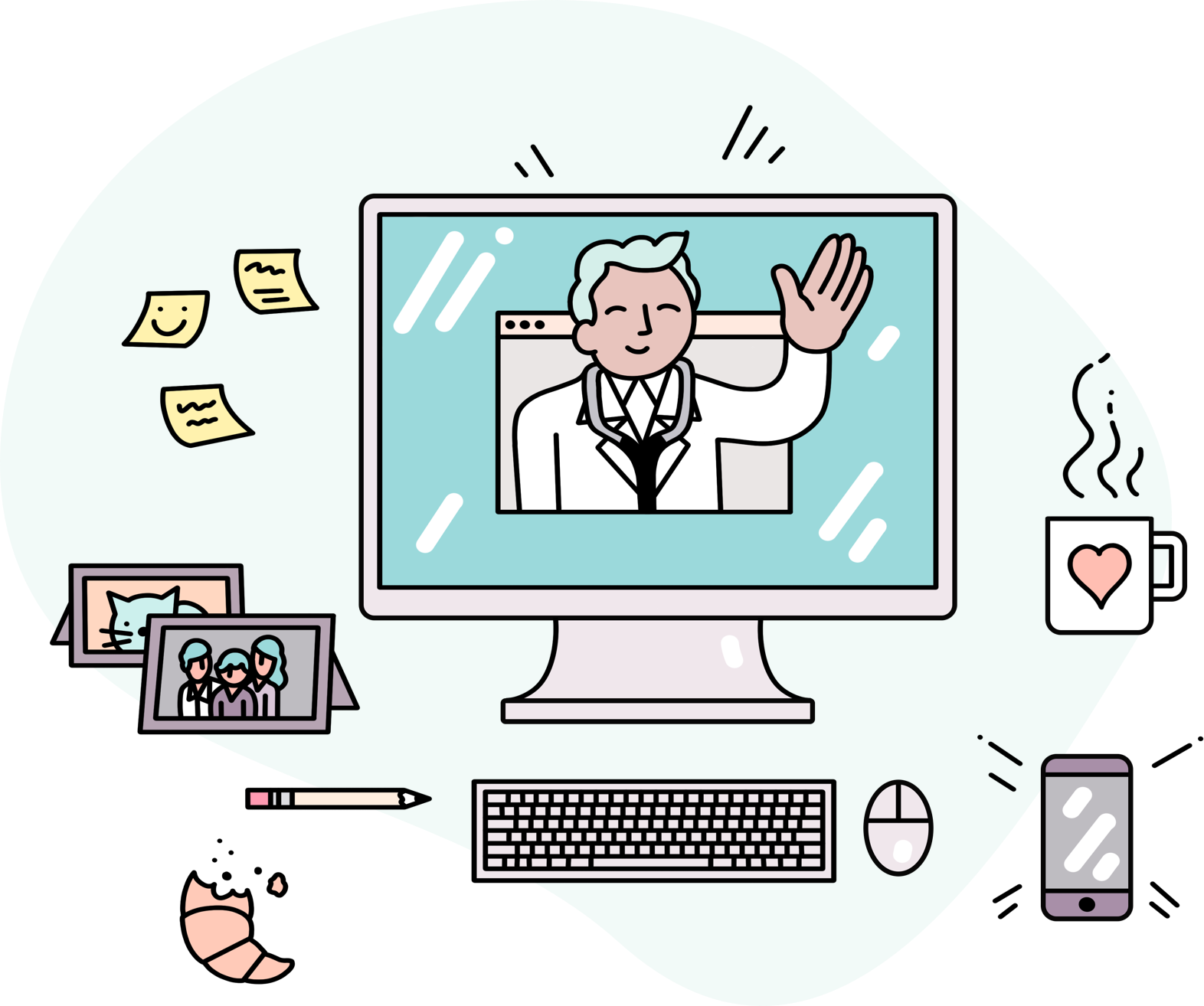 Getting screened for coronavirus on Maple is easy.
First, select "COVID-19 Screening Provider" in the app
Log in to Maple and click the "See the doctor" button. Next, select "COVID-19 Screening Provider."
COVID-19 screenings are covered in Ontario for those with a valid OHIP card. You can see a doctor from your smartphone, tablet or computer through audio or video.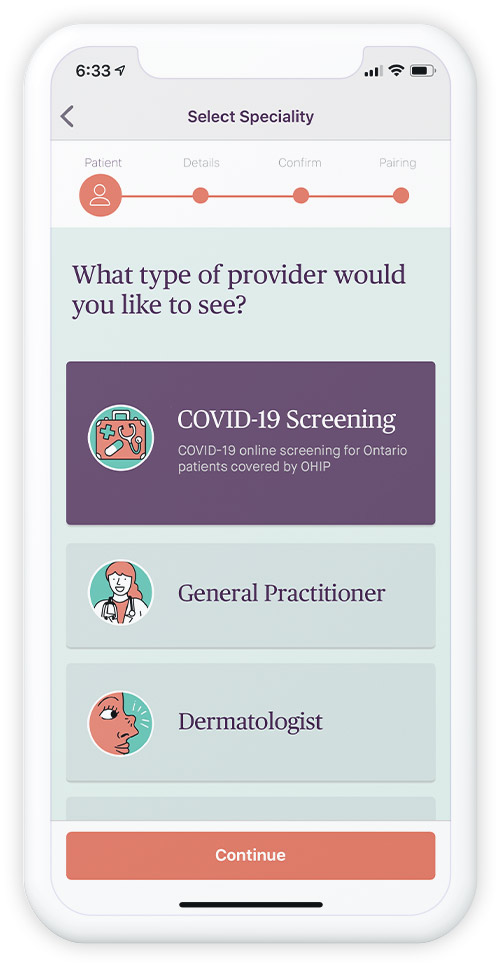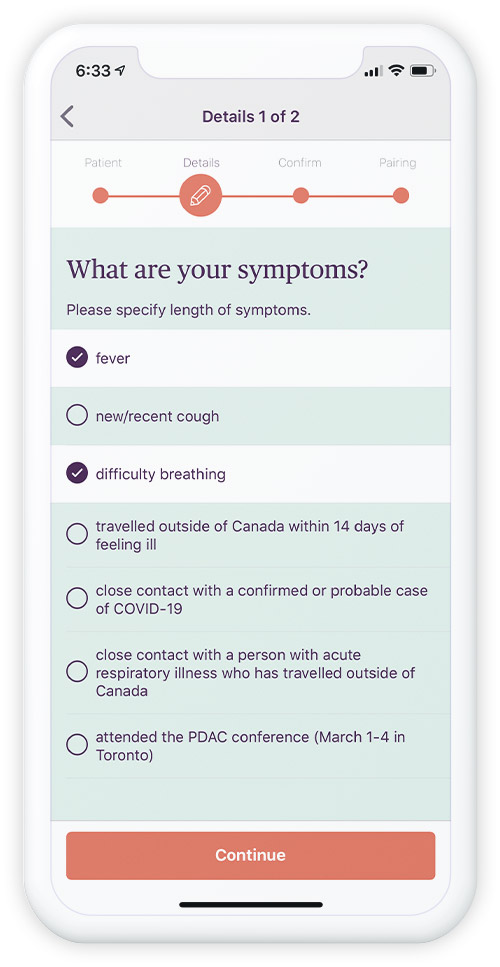 Next, describe your symptoms
Fill out the symptom questionnaire and let the doctor know how long you've been experiencing these symptoms in the comment box that says "Tell us more".
Prior to the screening consultation you'll also have the option to upload any relevant medical documentation or records to help the doctor properly assess your symptoms.
Note that you'll need to upload a picture of your Ontario health card or show it to the doctor once the consultation begins to continue with the covered screening visit. Patients without an OHIP card may incur additional charges. Click here to find out more.
Get advice and next steps right on Maple
After you've entered your symptoms, Maple will connect you with a doctor. You can speak with them by video or audio right in the app.
Due to the potential high volume of requests, wait times for a COVID-19 screening may be up to several hours.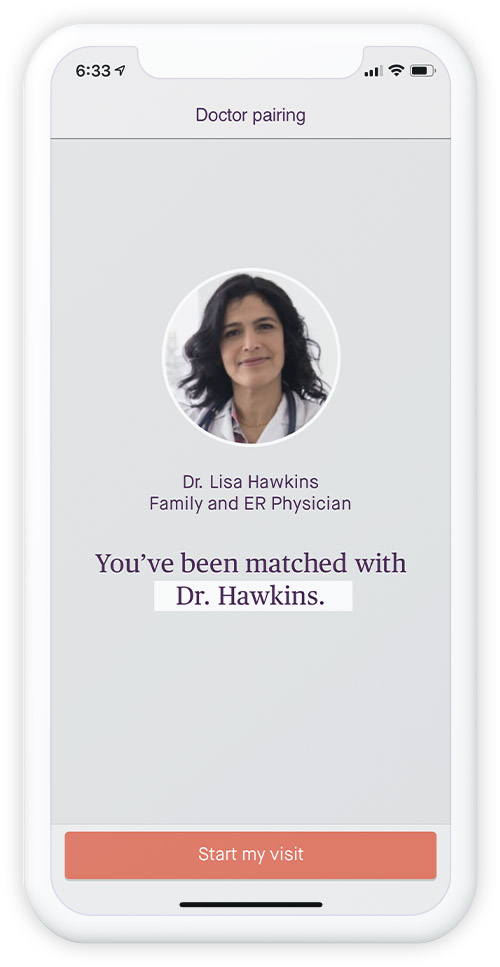 Frequently Asked Questions
Is the COVID-19 screening free?
The coronavirus (COVID-19) screening program is covered for all patients under OHIP with a valid Ontario health card. All you need to do is create a Maple account, add your health card number and follow the steps outlined above.
If you don't have an OHIP card, you'll still be able to request a visit with a Maple GP to discuss COVID-19 screening, however, fees may apply. Click here to learn more.
Who is eligible to participate in the screening program?
Any Ontario resident with valid OHIP coverage can request a COVID-19 screening on Maple. Tip: you'll need to add your OHIP number to your account and show the card to the doctor before or during the consultation so make sure to have it with you.
Can a doctor prescribe medication through the screening program?
During a COVID-19 screening visit, a doctor will speak with you over audio or video and assess your symptoms and risk for possible coronavirus infection. The doctors providing the screenings will not be issuing prescriptions for medications. If, based on your screening, the physician is concerned about your risk of COVID-19 infection, they will advise you on next steps in line with Public Health of Ontario guidance. You can visit the PHO website here for live updates: https://www.ontario.ca/page/2019-novel-coronavirus.
If you'd like to speak with a doctor about a non-COVID-19 related inquiry, Maple's on-demand, GP services are available for you to connect with a doctor 24/7 about prescriptions, sick notes, lab work, or any other non-urgent medical concern when you need them. See more here.
What is the average wait time to be connected with a virtual doctor for the screening?
Due to high volumes, the wait times may vary and can be several hours. Once you've submitted your request, feel free to navigate away from the app, or walk away from your computer and we'll notify you when the doctor is ready to speak with you. Rest assured that our doctors are working to screen patients as efficiently as possible and in the order that requests are submitted.
What are my next steps if my COVID screening is positive?
During your COVID-19 screening, you'll be matched with a doctor who will assess your symptoms over audio or video. If they believe you are at risk, they'll provide guidance on next steps in line with Public Health Ontario guidelines. At the moment, not all patients are being directed to assessment centres. In some cases, the recommendation may be to self-isolate. For more information on self-isolation, read more here. The doctor will also let you know if they believe you are suffering from severe enough symptoms that you require a trip to the ER.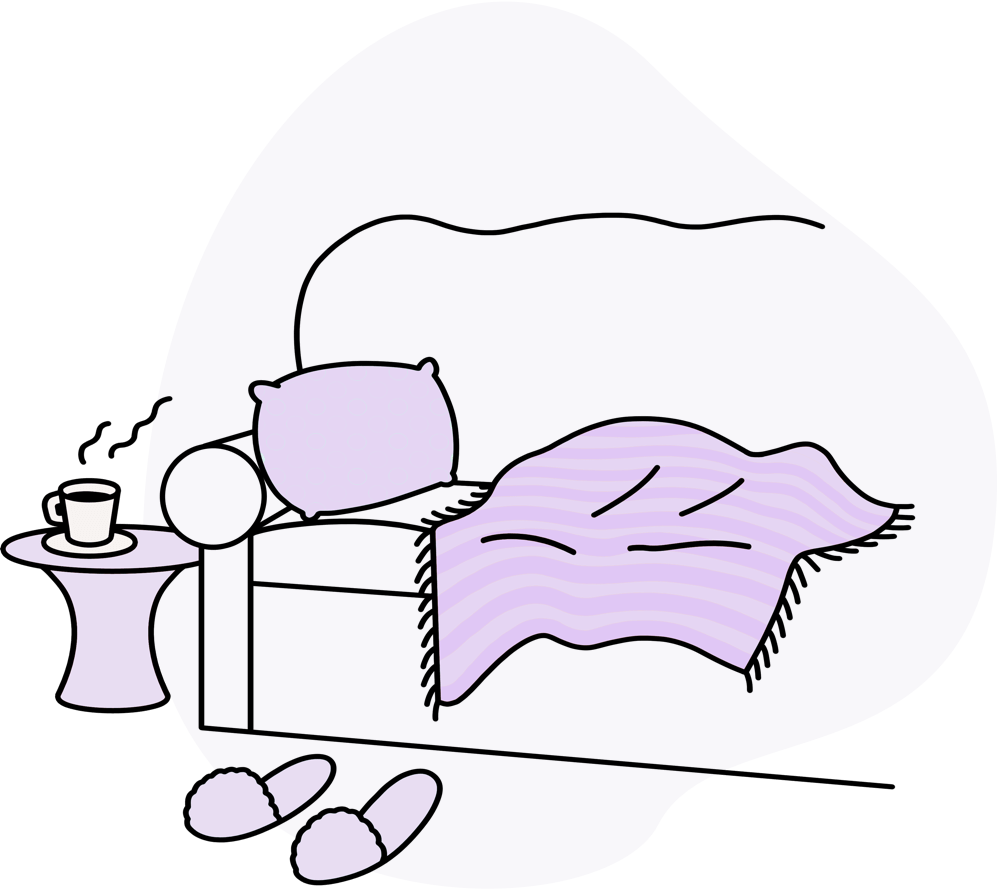 Request a COVID-19 screening now.
Online medical screening is a safe and convenient way to find out if the symptoms you're experiencing are signs of COVID-19.
Create your free account and get started now. Valid for any Ontario resident with OHIP coverage.