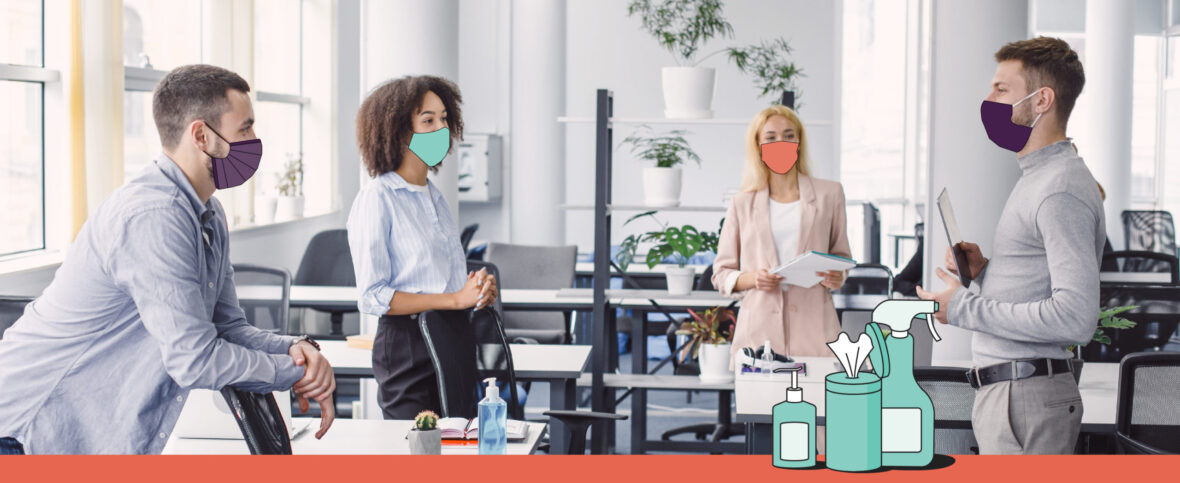 September 20, 2021 • read
Five tips for re-opening your office with employee wellness in mind
A return to the office in the time of COVID-19 is one of mixed emotions. It's a sign that things are slowly but surely returning to a new normal. Brainstorming, collaborating, and forming human connections are all best done in person, but the re-opening of office spaces also presents a host of new challenges. We understand that every organization is different, so we've put together some helpful tips to consider when returning to the office. 
Consider health screenings and hybrid work schedules
Reducing the risk of transmission is key for employee safety. It might help to think of your office as a co-working space where staff or teams are required to book their desks in advance. Though traditional meeting room booking solutions are available through Outlook, a handful of apps now provide more sophisticated features like visitor management or room booking with a pre-loaded screening questionnaire.  Digital solutions like Envoy, Sign In App, and Alice Receptionist all provide adequate services. 
In terms of return-to-work styles, there are roughly three options. Either a full return to the office, a hybrid option involving cohorting staff, or keeping the office fully remote. 
ADP, one of Canada's largest human resource management companies, is opting for a hybrid option. "We're hoping to be able to balance in-office time with important meetings and relationship-building opportunities," said Andrea Wynter, ADP Canada's VP of Human Resources. "This ensures that time spent in the office is valuable and productive as there are many new considerations staff will have to take into account, including commute time, limitations of office space, mandatory masking, and more." 
"Cohorting staff on specific days of the week can also ensure that if an unfortunate exposure does occur, we can limit the potential spread as much as possible to our extended organization. Starting with a voluntary return can help us form early learnings or determine changes as processes evolve."
Create readiness plans and playbooks
Clear and constant communication is the best way to reduce anxiety within organizations, especially in times of change. Having departmental readiness plans and playbooks will help deploy repeatable transitions back to the office.
​​"There's a connection between the impact of communications and the expectation of the impact," said Sandra Godoy, Senior Mental Health Therapist at Shift Collab. "When a hybrid work model was announced at the workplace of many of our clients, we heard a lot of questions and worries regarding not knowing how people will be managed, how masks will be mandated, and how measures will be enforced." 
These types of changes and uncertainties can lead to worry, stress and create anxiety for employees, which necessitates clear communications plans at multi-departmental levels.  
Implement a virtual care program
Employees will likely have new stressors to manage, such as demands of children being schooled from home or caring for potentially immunocompromised family members.
The evolution of employee benefits will need to include innovative offerings like virtual healthcare. Virtual care programs have started to gain traction due to the COVID-19 pandemic, as well as its convenience in reducing barriers to accessing healthcare.
ADP Canada, who implemented virtual care through Maple before the pandemic, were considering the service after realizing how many of their associates didn't have access to a family doctor and were using walk-ins or emergency rooms for their primary medical care needs.
Virtual care was seen by senior leadership as a leading-edge offer. "It's been a game changer for us," said Wynter. "Once we entered the pandemic with social distancing restrictions in effect, we realized that to stand out as an employer of choice, you have to show employees how you care about them."
Let employees feel heard and seen
Encouraging employees to share their thoughts and concerns about returning to the office is key to letting them know they're being heard and seen. If you haven't already been doing so, we encourage visioning what a return to office could look like by communicating with your employee through regular emails, meetings, and town halls.
"The health and safety of employees has always been top of mind," said Colleen Adams, Manager, Health & Digital Product Solution at Medavie Blue Cross. "We've maintained connection with our employees through regular check-ins to see how we could offer support and maintain strong workplace culture even when physically apart. We've also issued confidential surveys to better understand how employees are doing."
With the increased importance of mental health, Shift Collab are seeing more clients paying out of pocket. "Traditional insurance plans typically cover an average of two to eight sessions, that isn't enough for people seeking more mental health support," says Sandra Godoy, Senior Mental Health Therapist.
According to Godoy, Shift Collab has seen 15% of Canadians say their mental health has been negatively affected during COVID-19 and Canada Health also found that one in five Canadians have screened positive for PTSD, Generalized Anxiety Disorder, or Major Depressive Disorder as a result of COVID-related stressors. "We need digital-first solutions with 24/7, self-guided, on-demand services that give members more choice," says Godoy. "Plans will continue to adapt to add coverage for emerging solutions and maintain coverage for existing ones."
Motivate employees to come back
At some companies, such as ADP Canada, polls are showing that most employees would prefer to keep working remotely, with social connection being the only reason they would come into the office.  However, according to Wynter at ADP, "One of the downfalls to remote work is a human tendency to think less about the 'we' and more about the 'I', which is not necessarily the best practice when working in teams." 
ADP's biggest challenge will be to motivate employees to think about the company as an organism that lives and breathes. "In order to do that, we need to invest in the intention of why it's better to be in the office than work from home," says Wynter.
"Days where employees choose to come into the office can't be treated the same as working from home. They need to dress differently, commute, pay for parking and buy lunch. You want to create an environment that's a little bit different. If it's all about connection, collaboration, and career growth, then when your employees need to experience that while they're there."
Staff need to experience why it's better for them to come in and see why they benefit from social interaction. "They should see how this is helping them advance their career. I think the intention behind that is critical."
Essentially, you should strive to generate a sort of FOMO, or fear of missing out, when it comes to working face-to-face in the office.
"It shouldn't be the case that your employees are coming in because it was mandated. You want them to come in because there's this fear of missing out, an 'I want to be here because there's a benefit to me' sentiment."
Bringing your staff back to the office will require a well-planned, comprehensive communication plan, but with careful research and consideration, a smooth transition is possible. For more information, you can refer to our Returning To Work Guide PDF available for download here.