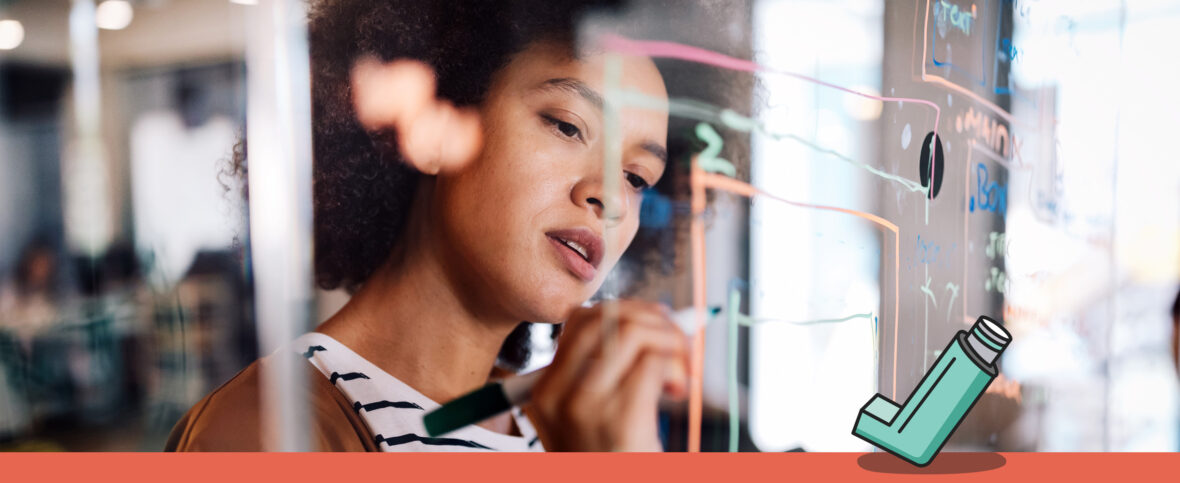 How companies can support employees with chronic illnesses
How much of your workforce struggles with chronic illness?
If you don't have a clear idea, you're not alone. According to a 2020 survey of plan sponsors, employers believe that only 34% of their employees suffer from a chronic condition. In reality, a staggering 58% of employees actually do. 
This gap may be startling, but the reason it exists is that employees are hesitant to share their health concerns in the workplace. While chronic illnesses are long-term conditions that are a part of an employee's daily life, they certainly don't want to be defined by this in the workplace. That said, chronic conditions like asthma, arthritis, and diabetes can make it difficult for employees to focus on their work due to discomfort, pain, stress, or fatigue. 
Here's the thing: as an employer, you don't always need to know the exact chronic health conditions your employees are facing in order to support them. But it is important to put a strategy in place for helping your employees cope and reduce the inherent risks.
What exactly can your company do? Unlike boosting employee engagement, chronic illness requires a more nuanced and sensitive approach. 
What employees actually need is the support to help themselves. 
Chronic illness management is a big problem for employees
Over half of employees (55%) take at least one medication regularly to manage their chronic condition. That's almost equivalent to the number of employees who report a chronic health condition. At the same time, 43% of these employees report they sometimes don't take their medication as scheduled. 
Medication adherence issues represent a significant cost burden for employers, since 36% of overall benefits costs go toward chronic diseases or conditions. Meanwhile, 20% to 30% of prescriptions are never filled and an estimated 50% of medications for chronic disease aren't taken as prescribed. 
Another cause for medication adherence issues is forgetfulness. Forty-one percent of employees< who skip doses cite this as the primary reason. And it's understandable. Life gets busy, and your employees have a lot on their plates. 
What's more, 69% of employees with chronic illness say that it's inconvenient to renew their prescription. While not all of these employees skip their medicine, it's an indication that there are many hoops to jump through (e.g. booking an appointment, taking time off, waiting to see a doctor, sometimes repeating bloodwork, going to the pharmacy) to get a routine prescription. 
Finally, 52% of employees who report skipping medication say this happens about 25% of the time. This is a meaningful figure. The non-adherence threshold – the point when medication starts losing its effectiveness – is 20%. 
This is a significant problem, but it has an easy solution. 
Virtual care offers a seamless, digital-first solution for chronic illness management
When we have something important to do, we tend to remember the need at random moments. If possible, we address it in the moment, but if the tools don't exist, we put it off until later. Our modern world has made instant solutions possible for all kinds of routine tasks. 
Take banking. If you've forgotten to pay a bill, you can log into your online banking app and transfer money with a few keystrokes on your phone. 
Your employees can enjoy a similar digital experience for managing their chronic conditions. By offering a full featured virtual care program as a benefit, you can give your employees the power to: 
See a doctor in minutes and receive a prescription renewal

Consult with a physician to conduct a check-in on a chronic illness, or order labs to check current health status 

Meet with a CDE to learn more about managing diabetes 

Pick up their prescription at the nearest pharmacy or have it delivered 

Access all of their patient notes in one online record
Here's the positive impact that this can have on your workforce: 
Reduced absenteeism:

38%

of employees say they've missed work or struggled to do their job well due to chronic illness

Higher productivity:

32%

of employees say their chronic illness makes it difficult for them to concentrate

Increased employee acquisition and retention:

Nearly three-quarters of employers

want to add more funding and resources to areas outside of their core health benefit plans. Chronic illness prevention is where 49% of these employers want to focus their attention over the next year. Employers that want to attract – and retain – top talent will need to keep their employee offerings competitive. 
Your HR team focuses on finding helpful ways to support employees. These solutions have to walk the fine line between respecting your employees' privacy and being a personalized, accessible solution. 
Offering a digital app like Maple is a smart way to do so when it comes to chronic conditions. With 56% of employees with chronic illness saying they've used a mobile device or app to manage their health, it's worth considering whether a virtual healthcare offering is worth the investment. 
Get in touch to learn how Maple can help support your employees' chronic health conditions.