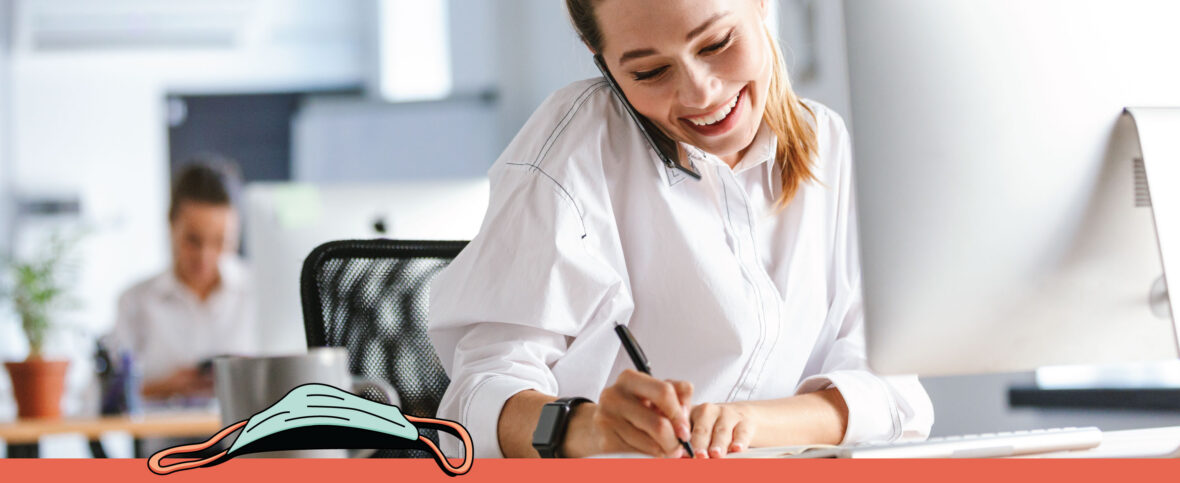 What to know about the COVID-19 vaccine and your workforce
The development of a COVID-19 vaccine in less than a year was an incredible achievement on the part of the scientific and medical community. While most vaccines take years to formulate and test, 2020 saw two COVID-19 vaccines authorized for use in Canada. 
Now that a COVID-19 vaccination campaign is underway across the country, you may be wondering when Canada's workforce will be able to resume office work. Here are some important elements to consider as your organization prepares for a return to the office.
Emerging from COVID-19 — the year ahead
At the moment, two COVID-19 vaccines have been approved by Health Canada and are now ready for distribution. They come from the pharmaceutical companies Moderna and Pfizer. Both vaccines are over 90% effective at immunizing against COVID-19. This means that if 100 people were to receive a vaccine, fewer than 10 people would contract COVID-19. As for how long immunity lasts, no one knows quite yet. 
AstraZeneca, a pharmaceutical company based in the United Kingdom, has also developed a vaccine that's up to 90% effective. We're still awaiting its possible approval and rollout in Canada.
While the arrival of a vaccine signals a turn in the fight against COVID-19, we still have a long way to go before we can reap its benefits as a society. Producing vaccines for millions of Canadians and coordinating delivery and vaccinations will require Herculean, months-long efforts. Moreover, both COVID-19 vaccines require two shots taken a few weeks apart, which adds significant logistical hurdles. The first shot introduces the body to the COVID-19 virus, and the second shot strengthens the immune response even more. After vaccination, it typically takes the body a few weeks to reach peak immunity. 
Both vaccines also require intense refrigeration. Pfizer's vaccine must be chilled at minus 70 degrees celsius while Moderna's vaccine must be stored at minus 20 degrees celsius. AstraZeneca's vaccine has a notable advantage — it can be kept in regular refrigerated conditions.
Both Pfizer and Moderna's COVID-19 vaccines elicit a fairly broad immune response, so experts believe that it's likely these vaccines will protect people against new variants of the virus. That being said, studies are still being conducted to test the efficacy of the COVID-19 vaccines against these new variants. 
When will Canada receive the COVID-19 vaccine?
According to government officials, Canada is expected to receive around six million doses of the Pfizer and Moderna vaccines by the end of March. By September, it's expected we'll have procured enough vaccines for everyone in Canada who wants to be immunized.
The goal with vaccination is to immunize enough Canadians to hit and surpass the herd immunity threshold. With herd immunity, if one person is infected with an illness, the virus dies before it can be passed to another non-immune person. 
At the moment, there are still questions around what's needed to achieve herd immunity. Experts believe a high percentage of the population, around 85%, will likely need to be immunized before a societal protection can be reached.
How to plan for re-opening your office
With the COVID-19 vaccination campaign now underway across Canada, organizations have started to plan for a safe return to the office. Here are some important questions for HR teams to consider.
1. What will our new work model look like?
According to studies, 85% of Canadian workers want the option of working from home more frequently once offices reopen and 68% want fewer in-person meetings and training sessions. At the same time, according to Mental Health Research Canada, 36% of Canadians claim that working exclusively from home is negatively impacting their mental health.
As a result, a hybrid work model is gaining popularity. This model allows for employees to come to the office when collaboration is needed, and stay home when heads-down work is required. This model puts flexibility first, which many employees have come to appreciate. 
Though working through a pandemic has been a learning experience for employers and employees alike, workers certainly appreciate some newfound efficiencies of working remotely. One survey found that 35% of remote workers have noted an increase in their productivity while 40% mentioned being equally as productive. Remote workers also save an average of 40 minutes daily from commuting and exercise 30 minutes more during the workweek.
As a whole, it's clear that employees show a growing preference for companies offering flexible work arrangements. Only one in five Canadian workers say they would like to return to the office full-time.
2. When should we ask employees to return to the office?
The question of when and how to gradually bring employees back to the office is one of the biggest challenges organizations are facing right now. Some companies, such as Netflix, don't plan to bring employees back until a majority of them have been vaccinated. Others, like CAA Insurance, will be bringing back workers gradually, but don't anticipate having more than 50% of its staff back in the office until at least after the third quarter of 2021.
If you're planning on asking employees to return to the office before herd immunity has been achieved, make sure to put workers at the heart of your planning process. Protect employees' health and safety by:
Maintaining a clean and safe work environment, with a focus on cleaning and disinfecting

Encouraging employees to practise good hygiene, including washing their hands often

Requiring masks or face coverings 

Reviewing your sick leave policy to encourage sick employees to stay home 

Redesigning spaces to promote physical distancing

Increasing ventilation

Maintaining flexibility for people who are at risk of more severe outcomes
One important element to keep in mind is that re-opening the office isn't about bringing employees back in the same physical location. It's about developing new models of work that enhance your business while prioritizing your employees' health and safety. 
3. What's our change management strategy?
So much has changed since the start of the pandemic. Your employee headcount may have changed during the pandemic, and some employees may have never set foot in the office at all. Naturally, some employees will be worried about their safety – one study showed that 73% of Canadian workers want better cleaning protocols at their workplace. 
To navigate change, communication will be key. You'll need support employees who are returning to the office as well as those who continue to work remotely. Since online work is different from in-person dynamics, you'll need some ice-breakers and social activities to help people build or rebuild relationships in the physical world. 
Overall, you should focus on communicating a vision for the near future that employees can share and embrace. Your change management strategy should also be rooted in empathy, acknowledging that everyone has faced unique challenges as a result of this worldwide crisis. You should create a plan for safety policies, answer questions, ask for feedback, and be sensitive to your staff's diverse situations.
Offering personalized mental health support during this period could also be a valuable initiative. Change is never easy, and online therapy provides a flexible solution that employees can access quickly when they're feeling stressed or overwhelmed. 
We're almost there
The light at the end of the tunnel is finally visible, however distant it may still feel. Now's the perfect opportunity to rethink how employees work at the office, and develop new and innovative ways of working and being productive.

If you're looking for new ways to support your employees' physical and mental well-being during this period of change, get in touch. We can discuss adding virtual healthcare to your benefits program to help your team stay safe, healthy, and productive.