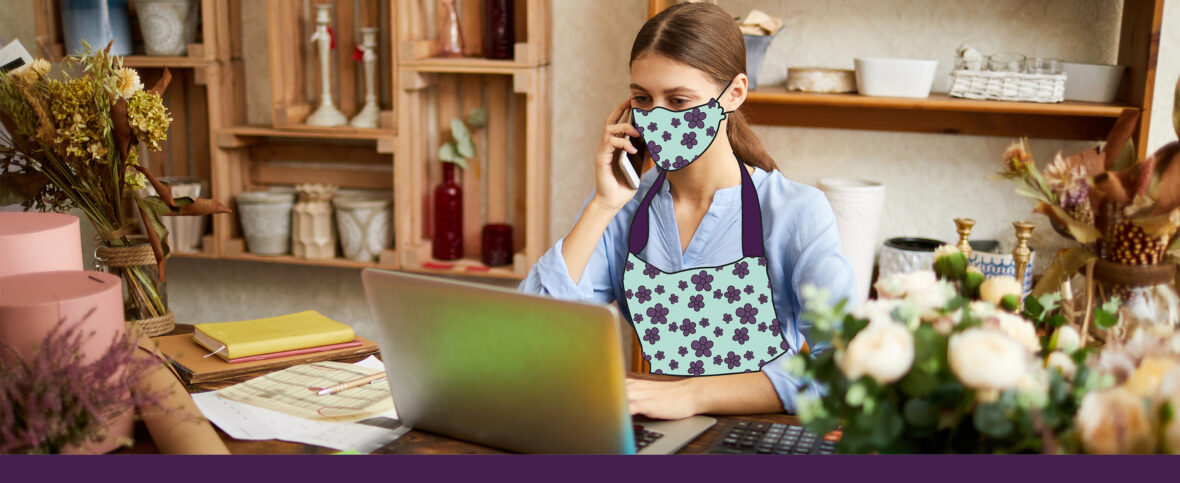 Tips for small businesses coping with COVID-19
October is small business month. It's a time to reflect on how small businesses are truly the backbones of our communities, and Canada's economy. There are over 1.2 million small businesses in Canada. They represent 98% of Canada's businesses, and they're at dire risk from the circumstances of COVID-19.
Small businesses have reported more COVID-19 related losses than medium or large businesses. They've seen greater revenue dips than larger companies, and have had to lay off more staff. Nearly every small business owner has wondered if they'll be able to weather the COVID-19 storm, or if permanent closure would be the better option. 
If you have a small business, there's no clear roadmap for how to navigate the ongoing challenges. As with all things COVID-19, resources are dispersed across the internet, and sensible advice comes second after reactionary headlines. The following tips come from financial and business experts. They may not be a perfect fit for your business, but they should shed some insight on the pockets of opportunity in this new landscape. 
1. Take stock of your finances
As with all large-scale endeavours, it's important to understand your current standing and resources before making new decisions. Create a COVID-19 costs and balance sheet, totalling your financial reserves and recurring expenses. 
Businesses are advised to have six months of cash stowed away for times of emergency. This would certainly be one of those times. Unfortunately, it's difficult for small businesses to amass that much reserves. Even larger businesses struggle to meet that target. It's one of the reasons small businesses have taken a harder hit from COVID-19. They tend not to have the financial safety net to withstand a series of low-revenue months. 
After you've surmised your financial situation, look for programs and grants to lower your costs. A few ways to start are:
Now is the time for tough decisions. Scrutinize every business cost on your balance sheet. Trim anything that isn't necessary right now. Look for which products and services make the most money for you. Those are your profit centres. Carry more of those profit centre items, promote them through advertising, and focus your business around what's moving the most units.  
2. Go digital
Can your business sell its inventory online? Can it offer classes or consultations over video conference? Is there a way for customers to financially support you online? If there's any way to move your business over to digital, do it. 
Experts project the in-person economy will take years to revert to pre-coronavirus levels. In the meantime, customers are living more of their lives and doing more of their shopping on the internet. 
Here are some impactful ways to start your online business presence:
Create a website. You don't need to have any coding knowledge to create a professional-looking website. There are website-building services like

Wix

and

Squarespace

that make it easy to create sleek and modern sites.  

Create content for social media. Customers engage with brands over platforms like Instagram and Facebook. If your business is in the consumer-goods space, you can set up aesthetically-pleasing photoshoots that are likely to gain traction on visually-oriented social media platforms.

Start email marketing. Email is one of the most effective ways to communicate with your customers, and it doesn't have to cost a thing. There are many

free bulk email sending tools

. Of course, you'll get more power and functionality from a paid plan. You can use email to communicate about promotions, send out useful content, and keep customers updated as to re-opening plans and policies.   
Experts estimate that the pandemic has advanced the online and e-commerce economy by 10 years. If anything is "hot" right now, it's online shopping and services. While an online business may not replace the magic of in-person community, it's a great way to keep revenue coming in. 
3. Create a safe environment for employees and customers
The rebound of our economy will depend on how confident customers feel returning to public spaces. Experts project it will take years for Canadians to feel fully confident shopping and living as they did before. The best thing you can do to speed this process along is to lead by example when it comes to safety procedures. 
Personal protective equipment (PPE) is an investment in community health, and in customers' perception of your business. Stock up on hand sanitizer, face masks, plexiglass dividers, and physical distancing floor markers. Put posters up communicating your stringent safety measures. 
By the same token, your employees need to feel comfortable returning to work. You're likely running on a lean staff count right now, and the short or long-term absence of any employee will be deeply felt. 
Let employees ask whatever questions they need to, and provide direct, honest answers. Introduce safety policies like face masks, frequent hand-washing, and temperature checks. Here's a good starting plan for bringing employees back to your workplace safely.
It's also a good idea to offer more employee health resources, such as more days off, and enhanced health benefits. Virtual care is a terrific benefit to offer as it gives employees a direct connection to a doctor, 24/7. They can attend to any health concerns without missing out on work, feeling safer and supported. 
4. Encourage Canadians to shop local
Everyone should take note of this tip — now is the time to support small businesses with your dollars. If and when you can, choose your local small businesses to shop for quarantine essentials and holiday gifts. $30 doesn't mean much to a big multi-national corporation, but a few $30 purchases could mean the world to a small business's survival. Encourage local shopping on social media, with posters in your shop windows, and through word-of-mouth. It's a good reminder to everyone that shopping isn't just about convenience. It's also about supporting the businesses that we love to see thriving. 
This is no ordinary small business month. We commend the small businesses who've been persevering through these exceptional times. It will be a beautiful sight when small businesses are all fully-operational, and people are shopping freely. Until then, small businesses are doing what they're best at — coming up with ingenuitive solutions based on their resources at-hand. 
If you're interested in offering virtual care for your employees, we've launched our new Smart Business Health Plan. This is our lowest-priced plan, giving you the core benefits of a virtual care program without extra administrative costs. Get in touch if you'd like to know more. We're happy to support small businesses with accessible healthcare to keep employees, and operations healthy. 
Learn more about the Smart Business Health Plan
Get in touch