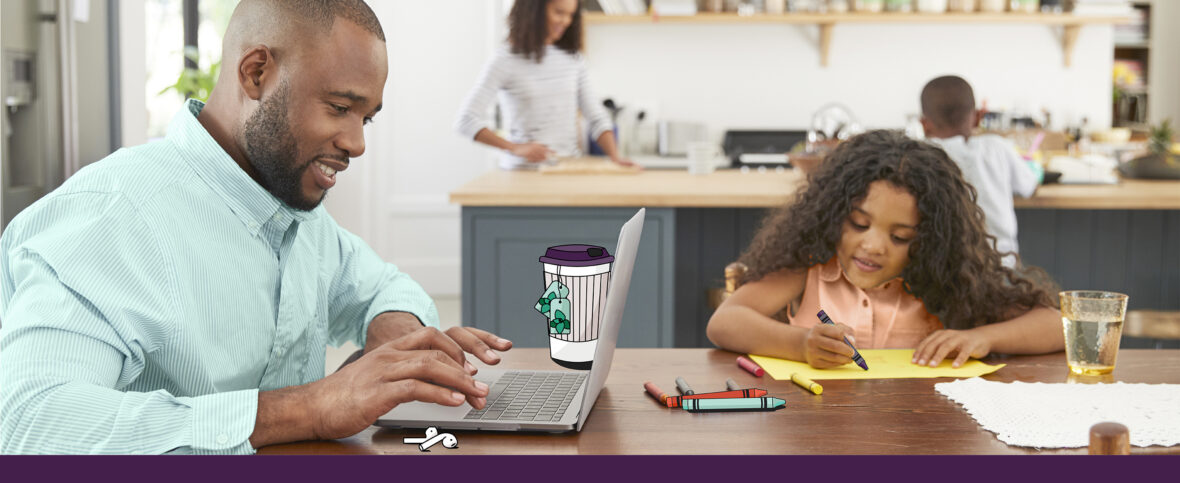 September 15, 2020 • read
Why you need to rethink your health benefits package
Health and wellness have been at the centre of the world's attention since the start of COVID-19. That's why now more than ever, workplaces need a robust health benefits program to remain competitive. Surveys show that 58% of job seekers favour a diverse workplace benefits package that they can tailor to their needs. 
Creating a health benefits program that meets today's new standard might seem daunting. There's no one-size-fits-all solution to supporting employee health. The recent surge in virtual care shows that remote access to care lets employees prioritize what's best for them and their families. By offering virtual care, employers remain competitive while putting the well-being of their staff first.
Healthcare from anywhere is the new standard
Millions of people have accessed virtual care for the first time in recent months. Two thirds of primary care visits in Canada have happened virtually since COVID-19 emergency measures began. As physical distancing lightens, not everyone will be comfortable resuming in-person doctor's appointments again. Employers can support their staff by offering virtual care to facilitate routine checkups, mental health, and chronic care appointments. Plus, 71% of Canadians were willing to trade their current health benefits for digital tools like virtual care even before the pandemic.  
Families need access to healthcare outside of business hours
Working from home has its benefits and challenges for employees. Especially for parents, balancing meetings and childcare is an ever-present juggling act. People need access to medical appointments outside of typical business hours in order to accommodate their hectic schedules. One survey found that 47% of employees are looking for benefits that adapt to new family living structures. Adding virtual care to your health benefits package gives the caregivers on your team the power to book checkups at any time.
Improved access to mental health therapy improves your bottom line
A national survey revealed that 19% of Canadians have felt increased anxiety during COVID-19. Nearly the same amount feel depressed. In one year alone, mental illness has cost Canadian employers over $6 billion in absenteeism and turnover. With a modern benefits plan, employees get to choose the type of mental health treatment they need the most. Virtual care provides customizable support to employees as they navigate the unpredictable, long-term mental health effects of this challenging time. 
Employees are loyal to employers who offer a quality benefits program
Barriers between work and home have never been thinner. Showing a renewed interest in your team's health is one way to strengthen your team's connection. In fact, 59% of employees say that health and wellness benefits are important for increasing loyalty to their employer. Encouraging staff to prioritize their health amid today's challenges sends the message that they're valued. 
Offering virtual care signals that you're future-proof
During periods of uncertainty, talent will understandably gravitate towards businesses that are demonstrating agility. This provides an excellent opportunity to strengthen employee retention and attract new talent. How? By showing your business is thinking about its long-term plan. As remote-first work arrangements look like they're here to stay, digital health options are great tools for keeping team members healthy wherever they are. Virtual care options make for a standout employment perk, and shows your company's leadership is preparing for whatever the future holds.
Remote healthcare professionals fill gaps in community needs
Medical professionals across the country have served as the backbone of emergency relief efforts during COVID-19. For some healthcare professionals, this required shifting their attention from their normal roster of patients to caring for patients with COVID-19. This has made it more difficult for people to access primary care within their community. With a benefits package that includes access to virtual care, no employee needs to experience care interruptions. 
The future is full of uncertainty for both businesses and employees, but it's also full of opportunity. Staying competitive, compassionate, and cooperative as your team adapts to this challenging time makes a strong statement. Updating your employee health benefits package is a simple entry point to becoming a trailblazer business. By offering access to remote healthcare, you're making an investment in your team that will have myriad benefits down the line.