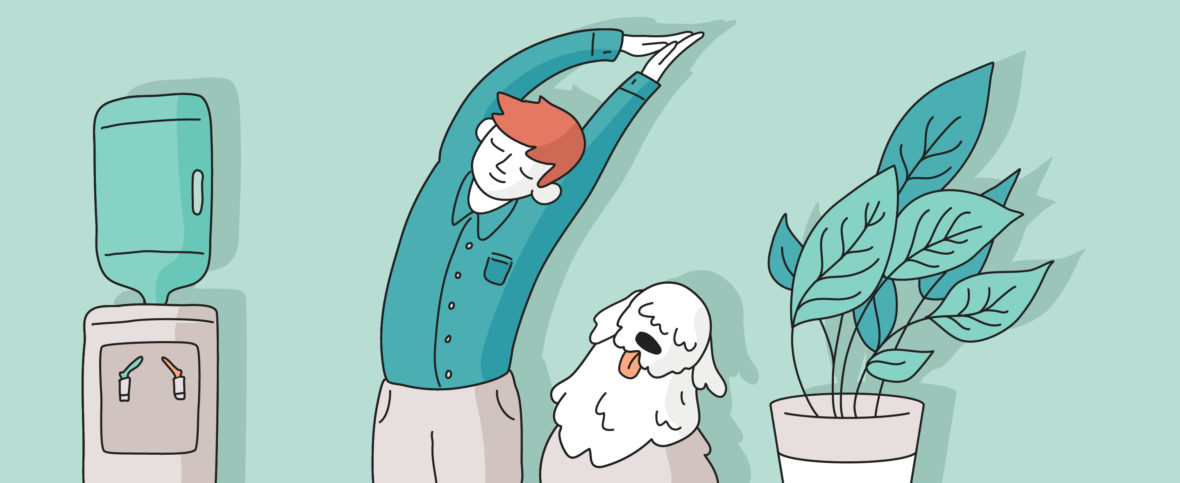 7 things you can do to improve the health & wellness of your employees
With all the events of 2020, employee wellness has taken on a whole new meaning this year. After all, employee wellness is simply another term for human wellness. 
As a collective society, we've gone to great lengths to protect the health and safety of our most vulnerable community members. Amidst all of this, we're still going to work. Your employees are withstanding a global pandemic, civil unrest, isolation at home, and are still showing up with a smile for the Monday morning meeting.  
Even if your staff is putting on a cheery face, make no mistake — today's conditions are still causing a strain on their mental and physical health. Employers need to give back to their staff's health and wellness, especially in these trying times. 
In the spirit of Global Wellness Day on June 13, 2020, we've put together seven initiatives you can undertake to create a culture of physical and mental wellness at your company. But first, how does it benefit employers to boost the health of their workforce?
Benefits of a happy and healthy workforce
A healthy workforce is a productive workforce. The average employee takes 8.1 sick days per year, which costs their employer around $2,000.

1

That's not even accounting for losses in productivity due to uncomfortable symptoms.

A good health benefits program gives employees one less thing to worry about, which helps them focus on putting their best efforts forward at work.

54% of benefits professionals

cite employee morale as their most improved metric from implementing wellness programs.

One of the best ways to attract new talent is through word of mouth from your own employees.

89% of workers

at companies that support well-being efforts are more likely to recommend their company as a good place to work.

 
So, this Global Wellness Day, try out some of the suggestions below to build a happier, healthier culture at your workplace. 
1. Encourage physical activity
One of the best things employees can do to decompress is to move their body in whatever way they find enjoyable. Exercise is naturally mood boosting as it releases serotonin, the "feel good" chemical, in the brain. Good fitness also helps prevent repetitive strain injuries, and boosts core strength that's needed to comfortably sit at a desk all day. 
How can you incorporate physical activity into your employees work days? Make it part of the daily schedule. Have a group hangout at lunch, and invite a fitness instructor to lead an exercise class. Make sure to make it approachable for all fitness levels. 
To promote exercise as a lifestyle habit, offer discounted memberships to local gyms, or online fitness classes. Right now, COVID-19 has caused gyms to shut down their facilities, but many are now offering online classes. Check out Yyoga for great yoga classes for strength, flexibility, and relaxation led by some of Canada's best instructors. 
2. Create opportunities for social connection
One of the biggest drawbacks of working from home, Canadians are reporting, is feelings of loneliness. Many people get a huge social benefit from seeing their co-workers at the office, and building something meaningful together. Try to make the mantra "united by staying apart" come alive at your company. 
Have regular online social nights or lunches where employees of all departments can have some facetime, unwind, and chat about topics other than work. There are lots of icebreaker games you can use to cut through any awkwardness of video calls. 
Another way to foster social connection is to set up a buddy or mentor system. The buddy system is great for helping new employees feel welcomed, and learn their way around your company's processes quicker. And mentorship benefits both the mentor and the mentee. The mentee will receive career guidance, which gives them a sense of progress despite these tumultuous times. As for the mentor, senior professionals who choose to mentor gain leadership skills and expand their network. 
3. Provide mental health supports
A remarkable 61% of employees are reported to be burnt out on the job. That figure has likely risen given recent world events, and the challenge of adapting to new modes of life and work. And, in any given year one in five Canadians will experience a mental health problem or illness. 
This all goes to show how common mental health struggles are. Employees who are grappling with a mental illness may appear withdrawn, take lots of time off, or appear less productive than usual. 
Here are some steps you can take to alleviate mental stress on your employees:
Include psychotherapy in your employee benefits packages. Virtual therapy is growing in popularity because patients can book according to their schedule, and receive their session at home. For people who lead busy lives, or are hesitant to venture to a therapist's clinic, virtual therapy makes mental health care that much more accessible. 

Have organized internal processes so that employees can work towards clear expectations, and aren't overwhelmed by incoming tasks. 

Give out mindfulness resources. Things like meditation app subscriptions, tips sheets, and comfortable, quiet office spaces can go a long way. 

Train managers on basic mental health protocols. Every employee is different, and some will need more support than others. 

Encourage work-life balance. This will allow for fully refreshed employees at the start of every workday, who can bring their most creative ideas to the table. 
4. State your values loud and proud
These days, companies can't afford to be silent on where they stand when it comes to social responsibility. Employees, and customers, are choosing to put their time and money towards companies who look out for their local and global communities. 
Employees are more engaged when they're working for organizations that talk the talk, and walk the walk. Proclaiming your company values on topics like environmentalism, gender, and racial equality also promote a culture of inclusivity. 
5. Have an open dialogue 
The effectiveness of psychotherapy proves that talking out your problems goes a long way in solving them. Having an honest, transparent culture at your workplace is huge for reducing stress on your employees, and boosting feelings of empowerment and connectedness. 
Make sure your employees know you have a policy of open communication. Schedule regular one-on-one meetings between junior employees and management so that there's both top down and bottom up feedback.  
Right now, employees are probably wondering what future office life will look like after COVID-19. The best thing to do is be transparent, and communicate new office policies well before employees return. 
Let employees know of new office cleaning measures, hygiene rules, office adjustments, policies around business travel, and what will happen if a colleague tests positive for COVID-19. For more advice around reopening your office safely, check out our article here. 
6. Perform a health and wellness audit
A lot of things can be revealed in a thorough audit. If you're really invested in knowing your employee wellness score, do an audit on multiple fronts. Here's a basic checklist to get you started. 
General satisfaction levels around office culture. 

Flexibility in working arrangements, such as work from home. 

Adequate healthy nutritional options provided.

Office health and safety protocols. 

Company stance on drugs, alcohol, and tobacco. 

Parental accommodations, such as maternity leave, or flexibility in leaving work early to pick up kids from daycare. 
Poll your staff on the above items, and any other points that might be relevant for your company. If the resulting score is low in a particular area, that shows you where to investigate and improve. 
7. Create a stand-out benefits program
For top talent, companies that offer robust benefits packages really stand out as an employer of choice. 76% of Canadians would not move to a job that didn't offer a strong benefits package. 
Take a look at your benefits program and see if there are any areas that could be bolstered. Extended dental, bodywork, and virtual care are all great additions. The healthier your employees are, the greater they'll thrive at work, which will lead to some amazing results on the business side. 
Global Wellness Day means something different this year: a day to appreciate our own unique wellness journeys, a time to reflect on how we're persevering through some exceptional circumstances, and an opportunity to examine how to best support your employees. If you'd like to speak to one of our Maple experts on how to bring your employee wellness program to the next level, please reach out. We'd be happy to share our insight as Canada's leading provider of virtual care. 
1 Canadian Institute for Health Information, Commonwealth Fund Survey 2016.