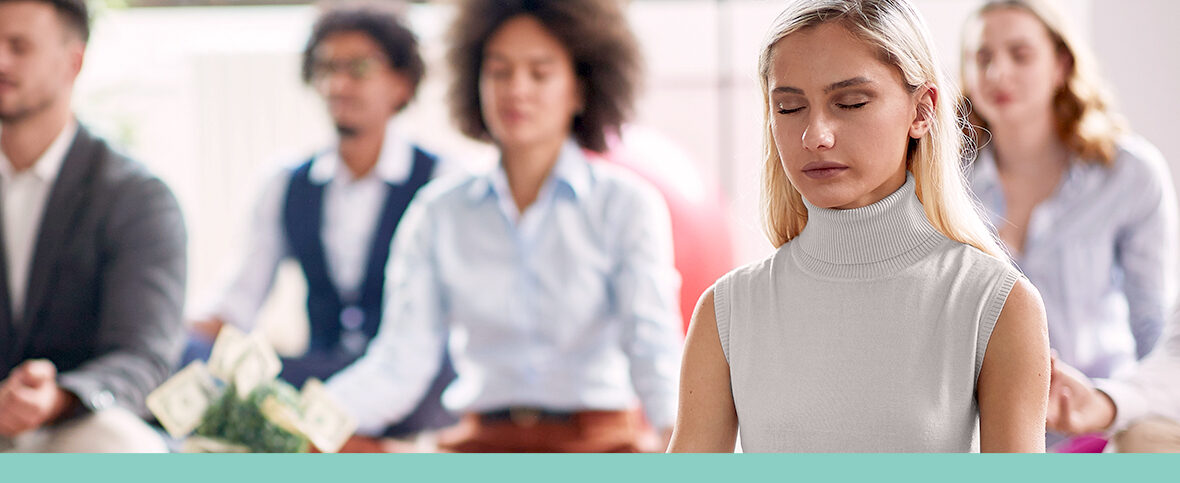 How employees can prioritize their mental and physical health
Every week, at least 500,000 Canadians miss work due to mental illness. On top of that, more than one in five Canadian adults is living with cardiovascular disease, cancer, chronic respiratory disease, or diabetes — chronic diseases that can have serious implications.
Knowing this, it's clear that wellness — both mental and physical — should be at the forefront of every organization. But, it takes two to tango. It's important for leaders to provide team members opportunities to prioritize their physical and mental health, and it's equally as important for team members to take advantage of these offerings.
Creating a work environment that encourages teams to prioritize their physical health and offers employees mental health support creates a well-oiled machine — healthy employees and boosted productivity, morale, and employee retention.
Here are 10 ways managers can empower their employees to prioritize their mental and physical health in the workplace.
1. Create an office library
Reading isn't only a great way for coworkers to relax and bond. It also strengthens their brains, improves memory, and can even make them more empathetic. Reading fiction specifically can improve social-cognitive abilities. Creating a little bookcase and cozy reading nook where employees take a book and leave a book is low-cost and a great example of how office space impacts employee well-being.
Additionally, giving your team a little downtime to take their mind off work and into the world of self-help, science fiction, or anything else is empowering, and a luxury — especially for team members with young kids who likely don't get much time at home to read in peace.
You might even try creating a book club to go along with your little office library so that your employees can come together and discuss what they've read — it's the perfect team bonding activity to practice in the workplace.
2. Offer healthy snacks
You've likely noticed just how much the mood in the room changes when you order food for your team — everyone seems happy! In fact, one survey of over 1,200 professionals showed that offering free food at work boosts morale, makes them more excited to come to the office, and even makes them feel valued by their employer.
Providing healthy snacks like granola bars, fruit, and veggie sticks in the lunchroom encourages employees to prioritize their physical health and have even been shown to boost productivity. And, for employees who might not have time to pack a healthy lunch, knowing that this is available can take some stress off their plate.
One other idea to encourage healthy eating is offering alternatives for company celebrations and birthdays. Instead of cakes or cupcakes, your organization could opt for sugar-free cookies or a fruit arrangement, for example. This is a great way to show your team that celebrating is still important, but so is their health.
3. Lead by example
Encouraging your team to use their mental health days — if your organization offers them — and take breaks is great, but leading by example goes a long way. As a manager, one way to help employees with their mental and physical health is to ensure you're taking care of your own at the workplace.
Mental health challenges can affect anyone, so using your mental health days — if this is an option and no matter where you are on your mental health journey — taking vacation days, and practicing physical activity on lunch breaks can help inspire your team to do the same.
You might even try organizing a walking meeting to support physical activity in the workplace. Instead of booking a boardroom, you and your team can talk shop while going for a stroll. Studies show that physical activity can help decrease feelings of anxiety and depression and even improve concentration.
4. Encourage taking vacation time and sick days
Not all employees make use of their vacation days. Some new team members might even feel nervous about taking them, thinking they have to work as much as possible to make a good impression. It's essential for managers to take note of those on their team who aren't using their vacation days and have open conversations about why taking them is so important.
Vacation days are crucial to your team's overall health and success at work. One study showed that people who took fewer than 10 of their vacation days per year had a 34.6% likelihood of getting a raise or bonus in three years, while those who took more than 10 had a 65.4% probability.
Sick days are equally as important for wellness in the workplace. Whether an employee is feeling unwell or has to take a loved one to a medical appointment, remind them that that's what their sick days and personal days are there for.
5. Consider office pets
It's estimated that as of 2022, 8.5 million Canadian households had cats, and 7.9 million had dogs. Not only are pets cute and cuddly, but the effects of pets on mental health are incredible, which could represent the perfect opportunity for your organization.
Allowing your team to bring their furry friend to work has serious health benefits — having pets around can lower blood pressure, provide comfort and support, increase happiness, and boost mental health. Having a dog in the office may also encourage employees to get out and take their pets for a walk. Plus, those who work long hours don't have to feel the pressure of running home since their dog is already with them.
However, even with so many benefits of having office pets, there are some important first steps to take if you're considering implementing this approach. Making sure there are no pet allergies and that everyone feels comfortable having an animal at work is key.
Try sending around a survey asking your team how they'd feel about an office pet, and who has one that's well-behaved. If everyone's on the same page, you can create a schedule so that employees can take turns. Or, you can create an "office pet day", where team members bring in their pets for one day. Have fun with it too! You can make the office pets part of your team by adding them to your website and giving them roles and fun names, like "chief barketing officer."
6. Do a team-building day outside of the office
Your team likely got their fair share of virtual team-building activities during the pandemic. If you continue to operate remotely, these are still a good option, but nothing beats an out-of-the-office experience for positive team-building effects.
Team building events help build trust and social skills, both of which can help improve your employees' mental, physical, and emotional health at work. They can also increase collaboration, employee engagement, and raise your organization's bottom line.
There are many creative options, like a white water rafting day trip, team baking classes, escape rooms, and more, so get a few ideas together and ask your team who's interested and what they'd enjoy most.
7. Organize fitness challenges
Being physically active doesn't just have to be done after working hours — it can be a powerful tool to boost your employees' mood. Implementing step challenges using devices like fitness trackers in the office creates healthy competition and promotes physical activity. There are even apps with free trackers for employers to use as a challenge or team collaboration to see how soon employees can accomplish their goals.
If that's not your team's style, you could encourage them to take time together to do quick activity bursts, like walking or running on a lunch break, which has been shown to improve concentration.
Your organization could also create a company sports team. A study by Hudson in the UK found that 80% of men and 70% of women believed workplaces could use sports to boost performance — and 45% of men and 43% of women also said playing sports with colleagues increases morale and productivity.
8. Offer a weekly well-being workshop
Sometimes employees don't have the courage to ask for help when it comes to their mental health, and that's okay. One way to raise mental health awareness in the workplace and better manage work-related stress is to organize a weekly or monthly well-being workshop.
Workplace wellness programs like inviting a meditation or yoga teacher for a session or even an inspirational speaker over lunch can help inspire and empower your team. It also shows that your organization is invested in its employees and that mental health programs are welcome.
9. Install bike racks
Since physical activity can help improve mood, energy, and productivity, why not support those employees who ditch their cars when the weather gets warmer and take their bikes to work instead? Cycling can also help prevent stroke, heart attack, certain cancers, and even depression.
Having a bike rack or bike lockers installed at work is the perfect opportunity to show your employees you care about their physical health and are willing to offer them a place to keep their bikes safe.
As a bonus, installing a bike rack also shows that your organization is invested in eco-consciousness. And with 64% of millennials saying they won't take a job if their employer doesn't have strong social and environmental commitments, it's a healthy investment.
10. Provide well-being benefits
Providing perks like a discounted gym membership is a great way to encourage physical activity, work-life balance, and help reduce stress in the workplace. Especially with inflation, your team might feel uncomfortable purchasing their own, so this benefit can go a long way. But a gym membership isn't the only health and well-being benefit employees want.
A survey from Randstad revealed that "annual health credits" are the most important health and wellness benefit, meaning it's not only the gym, but access to things like telehealth and virtual mental health services too.
Offering an employee mental health resource like Maple's virtual care solution for teams provides your employees with online visits with Canadian-licensed mental health professionals as well as general practitioners for common health concerns, all from their phone, tablet, or computer. This can also help keep workplace absenteeism at a minimum.
How Maple can help employers
Prioritizing employee well-being at work is possible with the right tools. By implementing our tips above, your team will always be empowered to put their mental and physical health first.
If you'd like to speak to a member of our team to take your employee benefits to the next level, reach out today. As Canada's leading virtual care platform, your employees can access doctors online, 24/7 as well as a comprehensive mental health program with Canadian-licensed mental health therapists. We'd be happy to chat about how a quality virtual care solution can impact your team's overall wellness.
This blog was developed by our team and reviewed by a medical professional.