See a speech-language pathologist online.
Certified speech-language pathologists (SLPs) specialize in assessing and treating speech disorders, language difficulties, and more. They work with individuals who are experiencing communication challenges through speech or writing.
Available in Ontario. Appointments are available for adults and children. Visits are conducted over video or audio chat.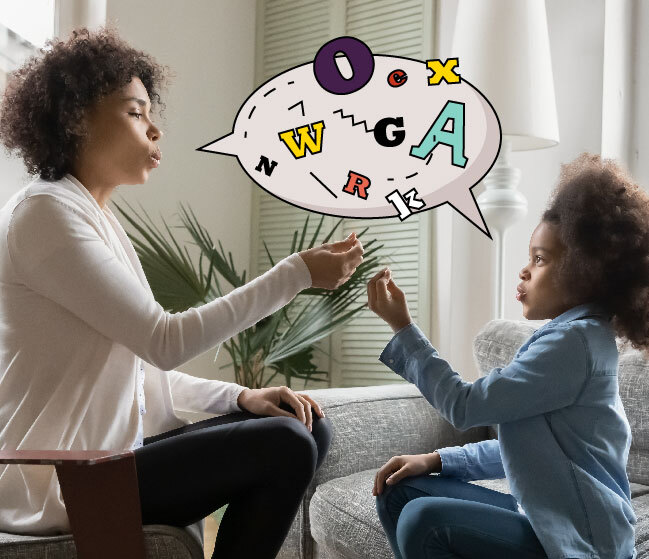 Seeing a speech-language pathologist on Maple is easy.
First, submit your request
Log into your Maple account, select "Speech-language pathologist" from the list of specialists and explain why you'd like an appointment. Your request will be securely sent to a Canadian-registered speech-language pathologist. Once your appointment has been scheduled, you'll receive a form by email to capture additional information. This will help the speech-language pathologist determine how they can best assist you.
Initial assessments are $240 and take 60 minutes to complete. Once you've completed an initial assessment, you can schedule a 45-minute follow-up visit for $170.
Next, get ready for your initial assessment
Your initial assessment will include a review of your history and current concerns, and a proposed treatment plan. Please note that for patients between the ages of 5 and 17, the parent or caregiver is expected to be present for the duration of the visit.
Your appointment will start at the scheduled time.
Review your assessment and next steps
Follow the speech-language pathologist's proposed treatment plan. To chat again with the specialist, simply book a 45-minute follow-up visit directly from Maple.
Frequently Asked Questions
What are speech-language pathologists?
When people think about speech-language pathologists, they often picture someone who helps children who stutter or have a lisp. While it's true that speech-language pathologists can help with these issues, they also provide many other services. speech-language pathologists can help with speech delays and disorders, including articulation, phonology, and motor speech disorders, language delays and disorders, swallowing and feeding disorders, and much more, for children and adults.
Speech-language pathologists are highly educated professionals who are required to study anatomy and physiology and also study genetics, neuroanatomy, linguistics, human and language development, psychology, acoustics and more. They are qualified to evaluate, and treat a broad range of delays and disorders.
Occupational therapists are regulated healthcare professionals. Becoming an occupational therapist typically requires six to seven years of schooling, which includes an undergraduate degree, a Masters Program, and a provincial certification exam.
All OTs on Maple are licensed in Canada.
Are speech-language pathologists licensed?
The professions of speech-language pathology and audiology are regulated in all Canadian provinces except for Prince Edward Island and the Northern Territories. In Ontario, speech-language pathologists are governed by the College of Audiologists and Speech-Language Pathologists (CASLPO). All speech-language pathologists on Maple are registered in Ontario.
Consult our speech-language pathologists online.