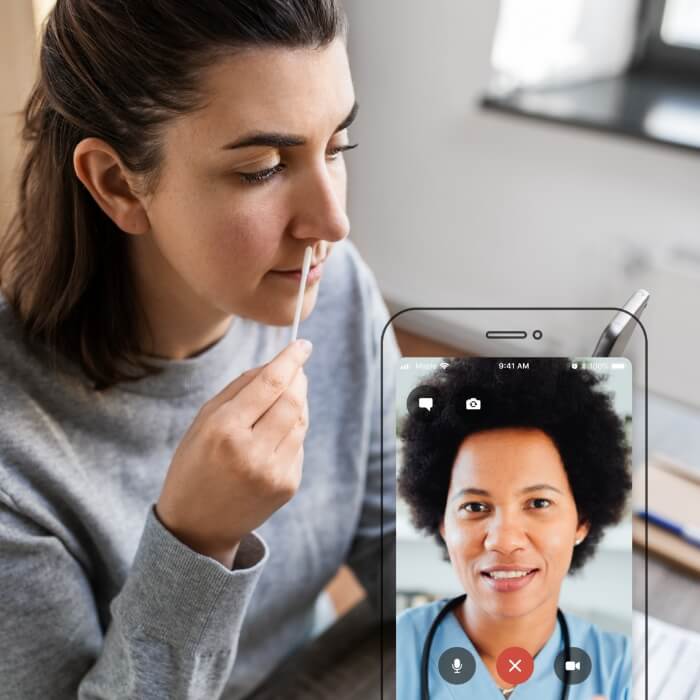 Online COVID-19 rapid antigen tests (RAT) for travel
Take your at-home virtual COVID-19 rapid antigen test from the comfort of your home or hotel room. Your test is supervised online by a Canadian-licensed healthcare professional so that you're ready for your next destination with your travel documents easily accessible in the Maple platform. Available Canada-wide.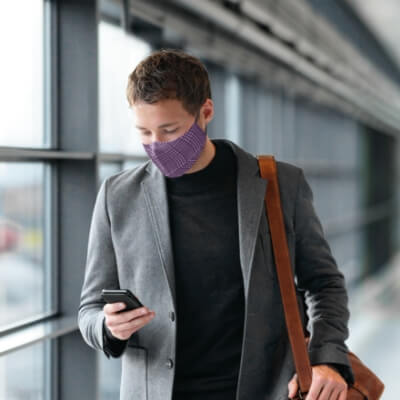 Why virtual supervised testing?
Many countries, including the US, require a valid negative COVID-19 antigen test to cross their borders.
To facilitate this process, you can use our platform to have your rapid antigen test supervised to be valid for travel. Supervised tests are $55 including tax, or $99 for a two-test bundle.
You'll receive a PDF document of your negative test result directly in the Maple platform.
1. Pick up your rapid antigen test kit
If you don't have one on hand, you can purchase a rapid antigen test kit separately from our online store.
 
Create an account, select "Virtual COVID-19 Antigen Test Supervisor" on the Maple platform and schedule a visit. Choose a time that's convenient for you.
3. Take your test, guided by a healthcare provider
Log into your account and a Canadian-licensed healthcare professional will be available to oversee your self-administered antigen test.
Frequently Asked Questions
How does the virtual supervised COVID-19 rapid test work?
Log into your account at the scheduled time. Once your appointment begins, a healthcare provider will initiate a video chat and will first check your valid ID (passport or driver's license) before proceeding. They will guide you via video chat through the different steps to complete the test and will stay on the call with you until the result is ready.
Following a negative result, you'll receive a proof of confirmation document, which can be printed directly from your Maple account.
*Disclaimer: It's at the patient's discretion to acquire their own test kit and book an appointment in advance of their departure. Maple is not liable for missed flights. It's up to the patient to determine when to buy their kit and schedule their appointment. Windows of time from departure date vary between countries and facilities. Please be sure to check accordingly. Check travel requirements for your international destination, as they will indicate how soon before travel your antigen test must be completed. Maple is not liable for specific requirements. It's also the patient's responsibility to read the instructions and steps for the antigen test process ahead of time.
Is a virtual supervised test accepted for travel into Canada?
The Federal Government of Canada changed the entry requirements for fully vaccinated travelers effective February 28th. Negative rapid antigen test (RAT) results from a laboratory, healthcare entity, or telehealth service are now accepted in addition to molecular tests.
You must show a valid passport or driver's license with your picture and name as it appears on your Maple account to receive your travel document.
Will the healthcare professional show me how to do the test?
No. To maximize time with the healthcare provider and ensure you have enough time to receive your results within the appointment slot, you should read the instructions ahead of time and be prepared to perform the test at the start time of your appointment.
Where can I be located at the time of my at-home virtual test?
Your test can be completed from home, a hotel room, or anywhere you have privacy and a decent internet connection. Please note you must have sufficient bandwidth for a video call.
How much do virtual supervised tests cost?
The virtual supervised tests are $55 including tax, or $99 for a two-test bundle. The tests take 30 minutes to complete. You must review your antigen test instructions and be ready to complete the test at the start time of your appointment.
How does the two-test bundle work?
If you purchase a two-test bundle, you can complete the first test before your departure, and the second test when you're ready to return. You won't be charged for the second test, as you'll already have pre-paid for both tests.
Can my children or spouse be tested in the same session?
No, appointments are only available for one person at a time.
What's your cancellation policy?
Patients can cancel or reschedule without a fee up until 48 hours before their appointment. Appointments cancelled within 24 to 28 hours will be charged 50% of the full fee. Missed appointments and no shows will be charged the full fee. If you're late for your appointment and the testing time runs long, the healthcare provider may ask you to book a second slot.
How accurate is a rapid antigen test?
Results are over 90% accurate. If your test reads positive, you should follow your latest local public health guidelines before getting a confirmatory PCR test.
What do I do if I test positive for COVID-19 after using a rapid report test?
You should always refer to your local public health unit for the latest public health guidance. Typically, this involves quarantining and completing a PCR test for confirmation at your local health unit or assessment centre.
When will I get my COVID-19 rapid antigen test kit?
Test kits are separate from the service of supervising the test. You can purchase COVID-19 rapid antigen test kits on our site from one of our trusted partners (although you don't have to purchase the kit from the Maple site). Depending on your location and the delivery option you chose, it can take up to seven business days for your kit to arrive. We ship anywhere in Canada.
Do I need to buy a COVID-19 rapid antigen test kit from Maple?
No, you don't have to buy one from us. As long as you have a Health Canada-authorized test kit, you'll be good to go.
At-home virtual COVID-19 rapid antigen tests for travel
Get your travel documents in order with a Health Canada-authorized COVID-19 test, all without having to leave home.