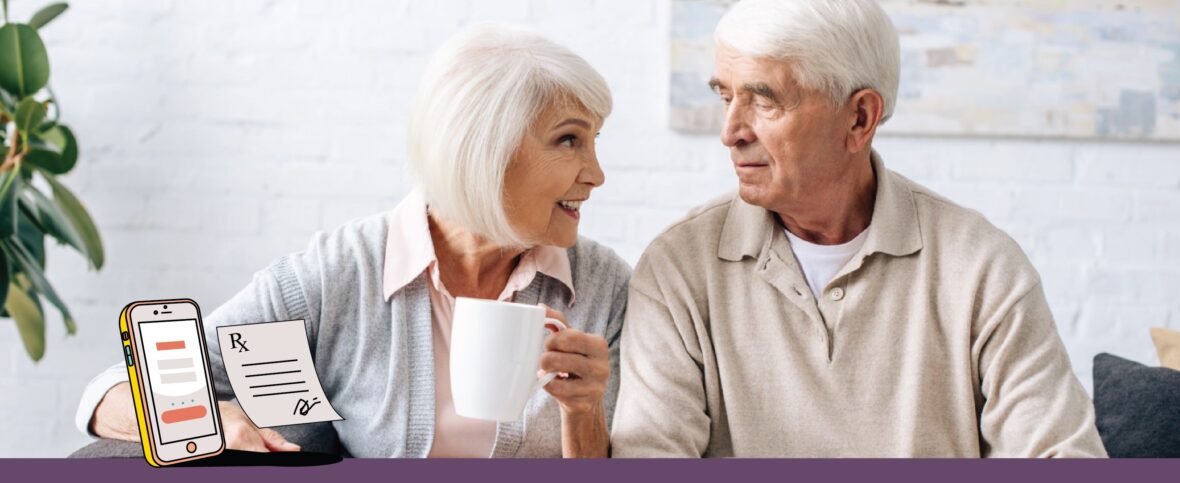 September 25, 2020 • read
How technology is helping seniors gain access to healthcare
Canada's population is aging. According to Statistics Canada, in 2019, 34.3% of the population was over the age of 53 compared to 23.7% in 1999. 
The increasing number of older adults presents many challenges for the Canadian healthcare system. For example, healthcare costs are expected to increase by 57% by 2045. This means the demand for health services will continue to increase. Fortunately, technology provides valuable solutions to meet these challenges, allowing seniors to stay healthy and active well past retirement age.
Here are some of the most significant ways technology helps seniors gain access to healthcare.
Medication management
As people age, they tend to rely more on medications to manage various health problems. Medication management mobile applications and pill dispensers can help seniors follow the right schedule. By prompting Canadians to take the correct doses at the right time, technology can facilitate medication adherence. While it may not seem like a big problem, medication non-adherence accounts for five percent of Canadian hospital admissions and five percent of physician visits. Combined, these result in an additional $4 billion in healthcare costs annually.
Many medication management applications also send reminders when it's time to refill a prescription. This helps patients avoid running out of medication. Some applications designed for the family's peace of mind can even track the number of pills taken from a pill bottle.
Fall prevention and medical alert systems
For seniors, falls can have disastrous health consequences. What if they're alone and can't get back up? Modern medical alert systems use GPS, fall detection, and geofencing technology to help locate seniors and provide assistance as quickly as possible. For example, in North America, the Apple Watch now comes with a heart monitor and a fall detection system. These functionalities are already saving lives.
If you're interested in a medical alert system but aren't sure which features are important, consider getting a device that's waterproof so that it can be worn while taking a shower or a bath. The tub is an obvious place where someone can slip and fall. One study shows that falls in the bathroom were more than twice as likely to result in an injury compared to falls in the living room.
Telemedicine
Telemedicine allows physicians to visit their patients remotely using video conference. This service can have a highly positive impact on the health of older adults. Many reports recommend using telehealth to reduce unnecessary hospital visits and service use. Simply put, virtual care saves time and allows health providers to see more patients. It also drastically reduces costs, including traveling and missed visits. 
During the COVID-19 pandemic, many patients tried virtual care services for the first time. A scientific survey of 2000 seniors by Morning Consult found that 91 percent of patients who used telehealth services reported favourable experiences. A study by Accenture focused on a community in Spain where one in five older patients received access to telemedicine. The study concluded that virtual visits significantly decreased the number of hospital visits. This saved the community an estimated $55 million in just one year. 
Long-term care is a sector of the healthcare system in which reliable and timely access to physicians is a growing problem. The COVID-19 pandemic has only exacerbated this issue. To provide access to care to those who need it, Maple powers a program in partnership with a Canadian hospital to bring 24/7 specialty care into long-term care homes. The early results are very promising, as more than 100 emergency department and hospital transfers were avoided in the first three months. These high-risk events often lead to complications as well as significant financial costs for the healthcare system.
Encouraging technology adoption among senior citizens
Some older adults still hesitate to embrace technology. This is often due to a lack of comfort or confidence in using devices, or frustrations that can arise when learning to use them. One report from Pew Research claimed that 77% of seniors indicated they would need help learning new technologies. Unfortunately, many seniors dislike asking for help. They fear looking foolish, being talked down to, or being seen as a nuisance. On the other hand, the same survey showed that once seniors feel comfortable with technology, they are often highly engaged daily users. By receiving better hands-on education and support, older adults can get more out of technology and enjoy happier, longer lives.
Seniors in Canada who need help with technology can check out TechServeTo. The organization's team of volunteers provide free tech support to older adults across Canada. Another option is Seniors Tech Services, which provides computer training for an hourly fee.
Innovation in senior care
From fall prevention to medication management to telemedicine, technology powers the future of preventative healthcare for seniors. Adopting digital health solutions today can improve access to care, reduce costs, and empower senior residents. It can also pave the way for future innovations. Moreover, experts in aging often emphasize the importance of "whole person" care, rather than purely just treating clinical symptoms. Technology solutions are highly compatible with this approach.
Across Canada, new technologies and innovations are making an impact on the health of older adults. Moving forward, we can expect the landscape for senior care to continue to evolve. Emerging technologies like wearables, smart homes, voice interfaces, robots, and autonomous vehicles all show promise for senior care. This is why it's so important to provide education and help seniors become more comfortable with technology. It could have positive benefits for Canada's population for years to come.