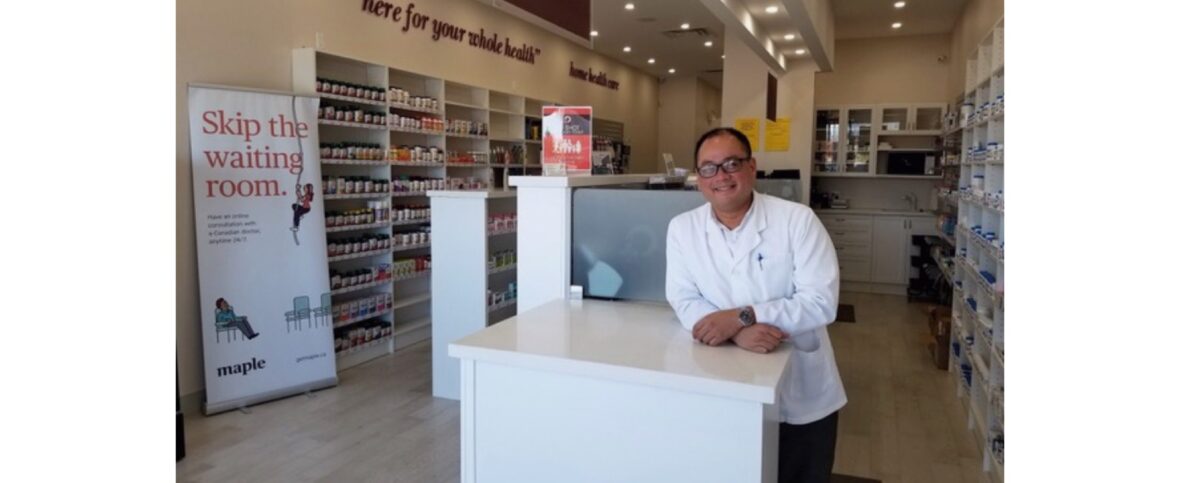 Maple virtual care in pharmacies for a better prescription experience
We're excited to partner with pharmacies to help ensure patients can get access to the prescriptions they need, right when they need them.
No refills? No problem!
We believe pharmacies have an active role to play in the health of communities. That's why we have partnered with Whole Health Pharmacy Partners to introduce virtual care for patients interested in seeing a doctor right from the pharmacy's private consultation room.
Getting to the doctor on time to get your prescription filled can be a challenge with a busy schedule. Medication adherence is critically important to the health and wellbeing of many patients, so we're testing out an innovative new way to get prescriptions filled.
Instead of rushing to the doctor's office to get your prescription, why not have a virtual visit in the privacy of the pharmacist's consult room and instantly pick up your medication?
---
Our pharmacy partners
We're excited to be collaborating with two incredible pharmacy partners: Renu Pillay at Whole Health Pharmacy Glebe in Ottawa, and Vu Nguyen at Deer Ridge Pharmacy in Kitchener. Both pharmacists are incredibly dedicated to providing expanded and collaborative care in their communities and have embraced the opportunity to provide a unique patient experience in their pharmacies. Renu Pillay explains:
We are proud to be once again at the forefront of medical technology and innovation in Canadian pharmacy practice. This is also ideal for travellers. No wait travel consultation, and travel medication and vaccinations can be supplied and administered right in our pharmacy.
On top of the ability to access a doctor immediately in the pharmacy, these pharmacies also are taking advantage of Maple's exclusive partnership with the CliniCloud remote monitoring tools. Through bluetooth-enabled thermometers and stethoscopes, our doctors can remotely listen to the hearts and lungs of patients right on Maple! The pharmacist is also available on site to help if you need any assistance during your consultation.
Whole Health Pharmacies brings together like-minded pharmacists who are committed to their patients and the community they serve. Their goal is to work with pharmacists to create personalized pharmacy experience that blends empathy with high quality health care.
---
How it works
Seeing a doctor for a prescription in one of our partner pharmacies is as easy as 1, 2, 3.
While you're in the pharmacy, simply use the pharmacy's Maple iPad to log in. Then click one button to request a consultation with the doctor. Or if you have your own iPhone handy, you can always download the app and log in from your device.
Once you tap the "See the doctor now" button, one of our doctors will instantly review your request. Expect a response in only a couple of minutes.
As soon as you get the prescription from the doctor on Maple, you can have the pharmacist fill it for you right then, and there. It's just that simple.
Maple doctors can prescribe medications for many common medical conditions. Some examples include urinary tract infections, allergies, erectile dysfunction, eye infections, high blood pressure, and more.
---
Maple: Our mission is to help people feel better faster, while empowering patients with more healthcare choice and control.
---